United States of America

---

---

---

---
Mount Desert Island Travel Guide
Mount Desert Island travel Forum
---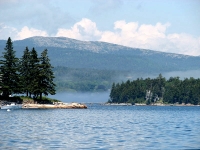 Mount Desert Island © Mourial
Home of Acadia National Park, Mount Desert Island is a breathtaking place off the south east coast of Maine. The island is one of America's biggest, with a population of about 10,000. This population is swelled annually by roughly four million visitors who come to marvel at the rugged coastline, beautiful scenery and slow pace that have captivated people since the 1800s.
Evidence of Native American settlement on Mount Desert Island dating back roughly 5,000 years can be found in large shell heaps, though not much is known about the island's early history. Like the rest of Maine and surrounds, the island's European settlement was originally French, which was then later dominated by the English.
In the early 1800s, a group of writers and artists known as the 'rusticators' (due to their braving of the very basic accommodation and simple fare) began to put Mount Desert Island on the map, immortalising its lush forest, tall peaks (in particular Mount Cadillac) and its ocean scenery. Soon the island began to lure America's wealthiest families and the Rockefellers, Astors, Vanderbilts and the like soon set up ostentatious summer homes and a period of extravagance followed, tempered only by World War II. Fortunately, relaxation combined with conservation and many of these families enabled the protection of the island's flora and fauna by the creation of parks.
Today, Mount Desert Island is still a popular place to visit and offers plenty of activities such as hiking, fishing, watersports, horseriding and cycling; succulent Maine Lobster, and plenty of relaxation. Bar Harbor is a picturesque town, close to the Acadia National Park and worth a visit in its own right, though some may find be turned off by the tacky tourist shops and bumber-to-bumper traffic. Bar Island is accessible on foot from the pier at Bar Harbor, and the Shore Path showcases the island's spectacular scenery. When visiting Maine, an excursion to this island gem is an absolute must.
Become our Mount Desert Island Travel Expert
We are looking for contributors for our Mount Desert Island travel guide. If you are a local, a regular traveller to Mount Desert Island or a travel professional with time to contribute and answer occasional forum questions, please contact us.