Lilongwe Travel Guide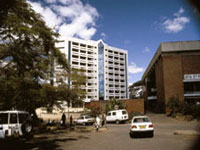 Lilongwe © Malawi Tourism
Lilongwe is the capital of Malawi and a very green city, to the extent that sometimes you wouldn't guess you were in a commercial hub for all the trees and grassy areas. Lilongwe is also quite a laid-back town, with social highlights revolving round visits to the local nursery, shopping in Old Town or a couple of drinks at the golf club. The city is divided into Old Town (to the South) and New Town (to the North), with the Lilongwe Nature Sanctury between the two. Lilongwe is very spread out so getting around can be a bit of a chore; you can get a taxi or experience an over-crowded minibus.
Become our Lilongwe Travel Expert
We are looking for contributors for our Lilongwe travel guide. If you are a local, a regular traveller to Lilongwe or a travel professional with time to contribute and answer occasional forum questions, please contact us.
Intrepid Travel is one of the world's leading suppliers of small group adventures focused on getting off the beaten track and having real life experiences in Malawi.
ADVERTISEMENT
---