Islands Travel Guide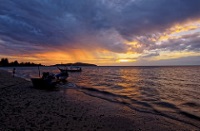 Sunset at Langkawi © Indra Gunawan
As well as a plethora of beautiful beaches, Malaysia also offers visitors a host of offshore tropical islands that are rated as some of the most beautiful in the world. Idyllic white sandy beaches, palm trees, clear waters and an underwater heaven for scuba divers and snorkellers - these are the archetypal images of paradise that beckon and enchant thousands of visitors each year.
The unblemished beauty and peacefulness of the Malaysian islands is famous worldwide, from the well-known islands of Langkawi to tiny specks off the coast such as Perhentian Kecil. The Langkawi archipelago has become an internationally renowned resort destination, irresistible for its ancient lakes and forests, waterfalls, fauna and flora, and wonderful beaches. Pantai Tengah and Pantai Cenang are Langkawi's main resorts with good facilities, and a relaxed atmosphere. Lovely sandy beaches and crystal clear seas surround the Perhentian Islands, with wonderful coral gardens and a vast array of marine life. Off the east coast, the most impressive island is Tioman, offering a wide variety of activities on and off the water and a holiday suited to those tired of commercialised resorts. Sipadan Island is known to be possibly the best scuba diving site in the world, and it features on any dive enthusiast's bucket list. In addition to the delights of the beaches and the ocean, many of the islands are covered in dense tropical forests which provide a playground for hikers too.
Ideally suited to those looking for a relaxing holiday with good facilities and a slow pace of life, the islands of Malaysia are great destinations.
Become our Islands Travel Expert
We are looking for contributors for our Islands travel guide. If you are a local, a regular traveller to Islands or a travel professional with time to contribute and answer occasional forum questions, please contact us.