Sabah Travel Guide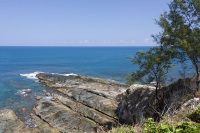 The northern tip of Sabah © CEphoto, Uwe Aranas
Evocatively named, 'Land below the Wind', Sabah is situated at the northeast corner of Borneo, below the typhoon belt in East Malaysia. Most visitors to Sabah are lured by the natural splendour of the state and the unique experience of its national parks. The rugged landscape is perfect for outdoor enthusiasts, with some of the highest mountains in Malaysia to climb, and one of the richest and least spoilt underwater ecosystems in the world to dive in. Other extreme sports like paragliding and skydiving are adding to Sabah's growing reputation as an adventure destination.
Its spectacular environment includes one of the oldest rainforests in the world, and the highest mountain peak in Southeast Asia, Mt Kinabalu, stands at 13,500 feet (4,101m) within Kinabalu Park. The park is the most visited of the region's reserves and has been declared a UNESCO World Heritage Site in recognition of its incredible bio-diversity. A popular trek is the two-day summit trail. Sabah's diversity extends to the indigenous people of the area: 31 different groups speaking more than 50 indigenous languages. These ethnic differences form a rich culture of music, dance and handicrafts that are unique to the region.
Sabah is an expensive travel destination with the only real 'budget' accommodation located in Kinabalu National Park and at Poring Hot Springs. Direct flights to Sabah are routed to the capital, Kota Kinabalu. Sabah is losing ground in tourism as ongoing conflict and violence against foreigners keeps many away. It is important for travellers to check travel warnings before visiting Sabah.
Become our Sabah Travel Expert
We are looking for contributors for our Sabah travel guide. If you are a local, a regular traveller to Sabah or a travel professional with time to contribute and answer occasional forum questions, please contact us.