Gozo Travel Guide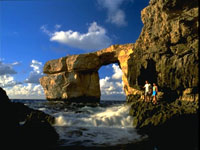 Azure Window, Dwejra © Malta Tourist Board
Malta's little sister island of Gozo invites visitors to put on their walking shoes. Life here moves at a leisurely pace, its rhythms dictated by the seasons, with a rugged landscape and beautiful coastline just crying out for exploration. Inland the small island is covered with flowering herbs and lush crops, and in summer it is fragrant with oleander, bougainvillea and geranium.
Gozo is known for having some of the Mediterranean's best snorkelling and scuba diving sites, but it is also a place of myth and legend, believed to be the Calypso isle of Homer's Odyssey. The countryside is dotted with old stone farmhouses and baroque churches, as well as some prehistoric temples and other historic sites of importance. The commercial centre of the island, Victoria, has a sleepy 17th-century feel. The town has many buildings of historical and cultural interest, mostly sited inside the Citadel, the ancient fortified part of the town. Gozo can be reached from Malta's Grand Harbour by ferry in about 20 minutes.
Become our Gozo Travel Expert
We are looking for contributors for our Gozo travel guide. If you are a local, a regular traveller to Gozo or a travel professional with time to contribute and answer occasional forum questions, please contact us.