Valletta Travel Guide
Valletta Travel Guide
Valletta is a gilded Baroque gem of a city bursting with history, culture and art, which attracts more tourists annually than it has residents:
The beautiful Baroque features of the city once earned it the nickname "Superbissima', meaning 'Most Proud', among European aristocrats, and Valletta was indeed built to impress by the Knights of St John. The treasures of their palaces, churches and gathering places are still the main attractions of Valletta, but visitors are also drawn by the ancient, prehistoric remains dotting the island, and the proximity of Mdina and the historic Three Cities. Valletta has a sedate but atmospheric nightlife and some great restaurants and wine bars, and it offers some decent shopping opportunities, but the city is known for its world-class sightseeing more than for anything else.
Best time to visit Valletta
The pleasant Mediterranean climate makes Valletta a year-round destination. The summers (May to August) can be swelteringly hot and the winters (November to February) are mild and rainy. The best time to visit is in spring, between March and May, and autumn, especially September. Read more on Valletta's Climate and Weather.
What to see in Valletta
-Watch the Malta Experience documentary to gain insight into the country.
-Wander through the opulent rooms of the Palace of the Grandmaster.
-Learn about the modern military history of Malta in the Lascaris War Rooms.
-Visit St John's Co-Cathedral, a magnificent medieval church.
What to do in Valletta
-Explore the prehistoric temple complex of Hagar Qim.
-Take a tour of the ancient underground world of the Hal Saflieni Hypogeum.
-Take a walking tour of the historic Three Cities.
-Spend a day sightseeing in the noble ancient city of Mdina.
Beyond Valletta
There are many worthwhile attractions just outside of Valletta, including Mdina, some ancient temple complexes, and the village of Mosta with its famous St Mary's Church. There are also some wonderful family excursions to enjoy, to amusement parks like Popeye Village and Splash & Fun Water Park.
Getting there
Malta International Airport is located three miles (5km) southwest of the capital city of Valletta. It is an award-winning airport with great facilities. Get more information on Airports in Valletta.
Did you know?
-Valletta was recognised as a UNESCO World Heritage Site in 1980.
-The city is said to have been built 'by gentlemen for gentlemen'.
-Valletta's Manoel Theatre is the third-oldest working theatre in Europe.
---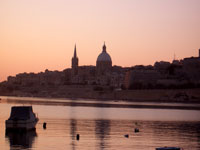 Valletta © Paul Micallef
Valletta, which is the capital of Malta, has the charm of an Italian city with its many Baroque palaces set on narrow steep streets that form a grid pattern. The city was carefully planned by its founder, Grand Master Fra Jean de la Vallette and the Knights of the Order of St John. The city was 'built by gentlemen for gentlemen' with the first stone being ceremonially laid in 1566 after Ottoman forces withdrew their siege of the Maltese Islands and the Knights of St John took over. The purpose of the city, built in a short span of 15 years on a plateau between two harbours on Malta's northeast coast, was primarily to fortify the island and secondly to provide palaces, Auberges (lodgings) for the eight Knight's groupings, churches for worship, and gardens for recreation. These remnants of the Knight's occupation still adorn Valletta in the form of some splendid Baroque buildings and fortifications, but the majestic architecture manages not to overwhelm the island's carefree personality. Valletta balances its sombre grandeur and religious tone with colour and jollity, and the city has a fun if not raucous nightlife and some great restaurants as well as magnificent sightseeing opportunities. It is a very safe and friendly city, welcoming of tourists and well-equipped to host them.
Become our Valletta Travel Expert
We are looking for contributors for our Valletta travel guide. If you are a local, a regular traveller to Valletta or a travel professional with time to contribute and answer occasional forum questions, please contact us.