Valletta Travel Guide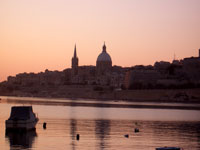 Valletta © Paul Micallef
Valletta, which is the capital of Malta, has the charm of an Italian city with its many Baroque palaces set on narrow steep streets that form a grid pattern. The city was carefully planned by its founder, Grand Master Fra Jean de la Vallette and the Knights of the Order of St John. The city was 'built by gentlemen for gentlemen' with the first stone being ceremonially laid in 1566 after Ottoman forces withdrew their siege of the Maltese Islands and the Knights of St John took over. The purpose of the city, built in a short span of 15 years on a plateau between two harbours on Malta's northeast coast, was primarily to fortify the island and secondly to provide palaces, Auberges (lodgings) for the eight Knight's groupings (Langues), churches for worship and gardens for recreation. The remnants of the Knight's occupation today characterise Valletta in the form of some splendid Baroque buildings and fortifications, but the majestic architecture manages not to overwhelm the island's carefree personality.
Become our Valletta Travel Expert
We are looking for contributors for our Valletta travel guide. If you are a local, a regular traveller to Valletta or a travel professional with time to contribute and answer occasional forum questions, please contact us.