United States of America

---

---

---

---
Annapolis Travel Guide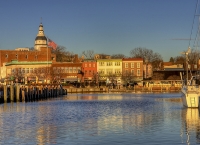 Annapolis City Dock © Charlie Stinchcomb
Situated only 35 miles (56km) south of Baltimore, Annapolis is not only the small capital of Maryland but is also considered to be the sailing capital of the USA, with a huge concentration of recreational and racing yachts sheltered in its marina. It is also a college town and has been home to the US Naval Academy since 1845. The city's waterfront has grown into an attractive district having retained its 18th century appeal despite the collection of boutiques, expensive shops, bars, restaurants and inns that cater to the onshore sailing crowd and tourists who are drawn by the city's history, nautical outlook and reputation as a party town.
Much of Annapolis's colonial past is preserved in the thousands of historical buildings scattered along the narrow streets and brick-paved sidewalks and the concentration of original colonial-style houses and grand public buildings is greater here than anywhere else in the country. Among the elite brick manors are numerous pastel-coloured rows of wooden slatted cottages that lead down to the waterfront. At the centre of Annapolis is the Maryland State House that once served as the capitol of the country, where George Washington resigned as Commander-in-Chief and where Congress authorised the treaty ending the Revolutionary War.
Apart from history and the absorbing waterfront, the city is a good base from which to explore the small towns across Chesapeake Bay on the Eastern Shore, by way of the Chesapeake Bay Bridge. Annapolis is also ideally situated for weekend trips to Washington DC, and provides more budget-friendly accommodation for travellers to America's capital.
Become our Annapolis Travel Expert
We are looking for contributors for our Annapolis travel guide. If you are a local, a regular traveller to Annapolis or a travel professional with time to contribute and answer occasional forum questions, please contact us.