Tijuana Travel Guide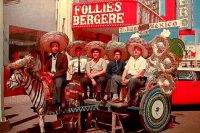 For rowdy college students looking for a quick and cheap trip south of the border, Tijuana is the ultimate Mexican holiday destination. Located just across the border from San Diego in northwest Mexico, Tijuana's seedy reputation as a city of cheap shopping and cheaper drinks has led to a flood of tourists coming from California on day or weekend trips by car or by foot.
For bargain-hunters from the north, Tijuana is a paradise of stalls selling brightly-coloured clothing and woven blankets, guitars, silver jewellery and bobble-headed Chihuahuas. A number of duty-free shopping malls make convenient place to pick up alcohol and tobacco products, as well as medication, for a fraction of the price available in the US. The main shopping street is Revolution Boulevard, where pushy touts try to persuade passersby into their stalls.
Scattered between the shops are a number of restaurants serving all manner of Mexican food ranging from street churros and fish tacos to the famous Tijuana Special, a classic Tex-Mex dish consisting of enchiladas, rice and refried beans. Tourists should take care to only drink bottled water however.
Revolution Boulevard is also the centre of the notorious Tijuana nightlife, with plenty of seedy bars offering increasingly cheaper drinks pushed by touts of their own. The red light district of Zona Norte, and particularly La Coahuila, offers little beyond lap dances and the chance to be robbed, and is best avoided.
Tijuana has some traditional attractions as well, including bullfighting and Jai Alai (a Spanish ball court game), but this is not the classic Mexico that stories are made of.
Behind the neon glare of the tourist trade, the drugs and violence that seem to be the lot of a border town are prevalent in Tijuana; the city has become more dangerous in recent years, particularly with the drug wars along the American-Mexican border. The town does try to shift the focus away from the drug wars, however tourists are urged to avoid travel to Tijuana until the drug violence has died down. It does however make a good starting point for exploring the Baja California peninsula and the beaches and resorts to the south.
Become our Tijuana Travel Expert
We are looking for contributors for our Tijuana travel guide. If you are a local, a regular traveller to Tijuana or a travel professional with time to contribute and answer occasional forum questions, please contact us.
Intrepid Travel is one of the world's leading suppliers of small group adventures focused on getting off the beaten track and having real life experiences in Mexico.
ADVERTISEMENT
---