Detroit Travel Guide
Why? Sport, the history of the automobile, the distinctive Motown sound, and a rather unique downtown riverfront. These are some of the reasons why people choose to holiday in Detroit, the bustling major metropolis in the state of Michigan. Travel to Detroit to worship at the automotive shrines of Cadillacs and Fords, but also to tick a major box in your exploration of the country's great cities.
When? The perfect times to holiday in Detroit are during spring and autumn, when the weather is less extreme; autumn is especially picturesque when the trees display gorgeous colours. In the height of Summer the city can be uncomfortably hot and in winter, well into April, temperatures are below freezing and snow is driven by icy winds.
Who for? Anyone who loves cars should make a pilgrimage and travel to Detroit, but even if your interest is marginal, take a look-see at what has driven the automotive industry. Music buffs, too, will get a kick out of a Detroit holiday, the city that spawned Stevie Wonder and the Motown label.
More Info: What is the time in Detroit? What can I see there? What facilities are there at the Detroit Metro Airport? How will I get around? All these questions and many more are answered in our comprehensive Detroit travel guide, which is regularly updated, to help you plan a wonderful Detroit holiday.
---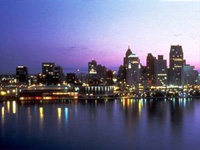 Detroit skyline © Detroit Visitors and Convention Bureau
The sprawling industrial city of Detroit, the oldest city in America's mid-west, began life as a trading post when French explorer Antoine de la Mothe Cadillac landed on the banks of the Detroit River in 1701 and established a fort. He was later removed because of bad conduct, but unlike its outpost commander, the settlement of Detroit was flourishing. In 1796 Detroit became American, and by the early 19th century had already earned a reputation as a centre for the manufacturing industry, particularly kitchen ranges. As most people now know, however, Detroit did not go on to become the stove-making capital of the world. Today it is renowned as being the automotive centre of the globe, birthplace of the motorcar and home to some of the nation's top brands. Originally automobile empires were established by Detroit families like Ford, Olds, Chevrolet and Dodge, which have become household names, thanks to the invention and perfection of the motor vehicle production assembly line, which all began in Detroit.
It is not only hard work and industrial enterprise that drives Detroit, however. The city in southeast Michigan is also famous for the Motown record label, founded by former autoworker Berry Gordy Jr, which has introduced the world to stars such as Stevie Wonder, Michael Jackson, the Temptations and Diana Ross, to name but a few.
Modern 'Motown' Detroit is a little decayed and shabby, but efforts are being made to increase the city's appeal as a tourist destination, and there are several attractions worth seeing. In the downtown area new hotels and restaurants are appearing to complement a new sports stadium, and there is a focus on the arts, particularly in the city's historic theatre district. The Rennaissance Center, a group of seven interconnected skyscrapers, provides the best views of downtown Detroit.
Become our Detroit Travel Expert
We are looking for contributors for our Detroit travel guide. If you are a local, a regular traveller to Detroit or a travel professional with time to contribute and answer occasional forum questions, please contact us.