Mackinaw City Travel Guide
Mackinaw City travel Forum
---
Why? A holiday in Mackinaw City means days full of fun and activity in Michigan's favourite holiday destination. The pretty town is a mix of old and new, with some historic attractions like a lighthouse and Fort Mackinac, complemented by numerous modern institutions like a thrilling waterpark, more than 100 shops, laser light shows, and golf courses. For nature lovers there are parks and of course, lovely sandy beaches. Many also travel to Mackinaw City for ferry access to delightful Victorian Mackinac Island.
When? The most popular time to travel to Mackinaw City is during summer, when cool breezes from the ocean moderate the summer heat, ideal for beach-going and outdoor activities. The population of this small town swells enormously during high season, so if you want to avoid the crowds, holiday in Mackinaw City in spring or autumn, when days are mild and nights cool.
Who for? Travel to Mackinaw City for the perfect family holiday. The town has something to suit everyone, from toddlers to grandparents.
More Info: For details of everything Mackinaw City has to offer, including opening and closing times for attractions and photographs, use our comprehensive Mackinaw City travel guide which is updated frequently and can be printed or emailed.
---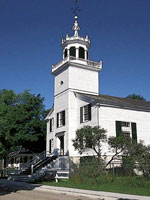 Mission Church, Mackinac Island © Mackinac State Historic Parks
Mackinaw City, situated in Michigan's Cheboygan County at the top of the state's Lower Peninsula, is linked to the Upper Peninsula by one of the world's longest suspension bridges. The city has become Michigan's most popular vacation destination, offering many attractions and acting as a gateway to the scenic Upper Peninsula with its hiking trails, state parks and recreation areas, and sandy beaches.
The city itself has a rich history, having been first settled after French explorer Jean Nicolet negotiated with the local tribes in 1634. It became a fur-trading post and later the site of a busy fort and trading store. By 1882 the settlement had become a flourishing town; today it is a shopping destination, offering many unique stores and restaurants lining its main street and boasting more than 50 hotels and holiday resorts. Regular ferry services connect the city with historic Mackinac Island just offshore.
Become our Mackinaw City Travel Expert
We are looking for contributors for our Mackinaw City travel guide. If you are a local, a regular traveller to Mackinaw City or a travel professional with time to contribute and answer occasional forum questions, please contact us.