United States of America

---

---

---

---
Minneapolis-St Paul Travel Guide
Minneapolis-St Paul travel Forum
---
Why? The 'Twin Cities' form the central core of the urban sprawl Minnesota, and as such a holiday in Minneapolis-St Paul offers all the attributes to be expected of a modern metropolis, including excellent restaurants, massive shopping malls and superb public transport. The cities are in the heart of 'lakeland', and straddle the Mississippi, so outdoor and water recreational opportunities will be enjoyed by those who travel to Minneapolis-St Paul.
When? Summer and Autumn are the best times to travel to Minneapolis-St Paul, which has an extreme climate with bitterly cold winters. Summertime is warm, but the season is short here in the northern climes. The best months to visit the Twin Cities are August and September Those who holiday in Minneapolis-St Paul usually find conditions bearable though because the Twin Cities have a system of skyways in the central area, providing protection from the elements.
Who for? A holiday in Minneapolis-St Paul is suited mainly to city slickers who will make the most of the Twin Cities' dozens of theatres, concert venues, art museums and miles of shopping malls. However, sports enthusiasts and fishermen will find plenty to do.
More Info: Find out where to go, what to see, and what to do during a holiday in Minneapolis-St Paul in our detailed Minneapolis-St Paul travel guide, which is updated regularly and free to print out or email.
---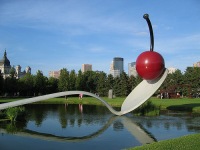 Cherry Spoon Fountain © Tim Wilson
Minneapolis and St Paul are the two halves of a singular metropolis bisected by the Mississippi River in eastern Minnesota. The older city, St Paul, is the state capital, smaller, quieter and more reserved than its modern sibling across the river; it has a compact downtown area sporting a variety of restored Victorian architecture among its glass skyscrapers, and is home to several major universities, and many museums and theatres. Minneapolis, founded on money made by the hundreds of saw and flour mills along the Mississippi has many contemporary buildings in a slick new downtown area with a lively, arty character and a vibrant nightlife.
The very existence of the Twin Cities is due to the only waterfall on the Mississippi, St Anthony Falls, whose hydroelectric power fuelled numerous flour and timber mills along the river, and today the Riverfront district in Minneapolis is a scenic stretch lined with old warehouses, mills and historical walking trails.
While Minneapolis and St Paul are the original 'Twin Cities' of Minnesota, the name now refers to the sprawling metro area, encompassing dozens of smaller towns, that extends for 30 miles in all directions. These towns have their own unique charm and identities, from the quaint 150-year-old main street of Anoka in the north to the antique stores and scenic St. Croix River valley of Stillwater to the south.
With hundreds of lakes lying within the Twin Cities area, there are endless opportunities for outdoor recreation, with miles of trails surrounding the lakes. Residents of the Twin Cities pride themselves on a high quality of life that includes sport and outdoor activities as well as top priorities such as a good education, a clean environment, excellent health care and a low crime rate. They boast a rich arts and cultural entertainment scene with more concert venues per person than any other city in the country, except New York. And the southern suburb of Bloomington is home to the largest shopping centre in the US that includes an aquarium and amusement park under the same roof as hundreds of shops, restaurants, bars and theatres.
Our Travel Expert
An American expat currently living in South Africa, Anya Klaassen has travelled widely as a musician and writer.
>Read Anya's tips on Minneapolis-St Paul
>Ask Anya a question
---
Become our Minneapolis-St Paul Travel Expert
We are looking for contributors for our Minneapolis-St Paul travel guide. If you are a local, a regular traveller to Minneapolis-St Paul or a travel professional with time to contribute and answer occasional forum questions, please contact us.
---