Monte-Carlo Travel Guide
Why? The epitome of wealth and glamour, holiday in Monte Carlo to see and experience how the 'other half' live it up. The centre of the famed Principality of Monaco on the French Riviera has long been the playground of the rich and famous, flaunting its renowned casino and annual Formula 1 Grand Prix. A holiday in Monte Carlo may be beyond the budget of most, but it is easy to travel to Monte Carlo for a day trip from more affordable towns along the coast.
When? With its mild Mediterranean weather, a holiday in Monte Carlo is pleasant all year round, although winter can be wet and sometimes chilly. The resort town enjoys an average of 300 sunny days a year, so whenever you travel to Monte Carlo you can be assured of blue skies most of the time. Unless you plan to travel to Monte Carlo specifically for the event, it is best to avoid the crowds attracted by the Grand Prix in May.
Who for? Travellers who are drawn to holiday in Monte Carlo come mainly to see and be seen in this celebrity playground.
More Info: To effectively plan your holiday in Monte Carlo make use of our user-friendly Monte Carlo travel guide which lists the major attractions and events in this enclave of leisure and pleasure.
---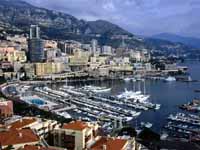 Monte-Carlo ©
Monte-Carlo, unofficial capital of glamorous and lavish Monaco, is surprisingly unattractive and is embellished more by its citizens and visitors than its own attractions. The capital is a blend of ugly high rise buildings and windy roads, but does boast the legendary Casino, luxury hotels, elegant nightclubs and restaurants, views of the sparkling Mediterranean and of course, the Monaco Formula 1 Grand Prix.
Established in 1866, Monte-Carlo was named in honour of Prince Charles III and is the richest of the country's four quarters. For years, Monte-Carlo has been the playground of the rich and famous, from Hollywood starlets to royalty, and business people dodging the taxman. It is also one of Europe's foremost holiday resorts, but certainly not for the humble backpacker. The city has several attractions, such as the Oceanographic Museum and Aquarium, the Monaco Cathedral and the Prince's Palace, several gardens, and other attractions centred on the country's famous Royal Family, such as an exhibition of HSH Prince of Monaco's private collection of classic cars.
There are some interesting diversions, such as catamaran trips, watersports, yachting and the Azur Express tourist train that links up the city's attractions accompanied by multi-lingual commentary. Worth exploring is the Old Town, with its attractive City Hall, and of course when one is bored of sightseeing, the best diversion (and the cheapest) is merely to settle down with a fancy cocktail and people-watch.
Become our Monte-Carlo Travel Expert
We are looking for contributors for our Monte-Carlo travel guide. If you are a local, a regular traveller to Monte-Carlo or a travel professional with time to contribute and answer occasional forum questions, please contact us.