Rabat Travel Guide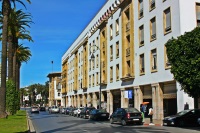 Mohammed V Avenue, Rabat © Nawalbennani
Rabat, Morocco's capital, is a modern city with wide boulevards, gardens, and white buildings, and is for the most part a far cry from the hectic warrens of the other imperial cities like Marrakech and Fez. It is, however, no less steeped in history, with its origins dating back to the 7th century. The King of Morocco lives here in his palace amid trees and flowers. Being an administrative capital the city is somewhat conservative and serious, but there is some local colour to be found in the old part of the city, the Medina, and the Kasbah, where there is a more relaxed atmosphere and many of the tourist attractions can be found. Recreational opportunities abound too, with a world-renowned golf course (the Dar Es Salaam Course), a few lovely beaches at hand, and some historic ancient ruins nearby. Rabat sits on the Atlantic coastal plain at the mouth of the river Bou Regreg, opposite its twin city of Sale.
As Rabat is the capital of Morocco it tends to be the centre of any public dissatisfaction and visitors are advised to avoid any political gatherings or street protests while in the city; however, in recent years anti-government rallies in Rabat have tended to be peaceful and the city is currently considered safe for tourists.
Rabat has a mild and temperate climate, its weather ranging from cool in winter (December to February) to warm in summer (June to August). The average high in summer is 82°F (28°C) and winter temperatures drop to an average low of 46°F (8°C). The highest rainfall generally falls in November and December, with July and August being the driest months. The best time to visit Rabat is between April and November.
Become our Rabat Travel Expert
We are looking for contributors for our Rabat travel guide. If you are a local, a regular traveller to Rabat or a travel professional with time to contribute and answer occasional forum questions, please contact us.