Tangier Travel Guide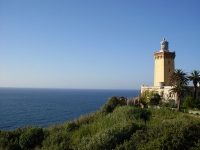 Cape Spartel lighthouse, Tangier © M.Rais
For decades, between 1920 and the late 1950s, Tangier was a playground for adventure-seekers and the rich and famous, attracting all those seeking a tax haven or a mystic destination, from authors and artists to spies and aristocrats. Regular visitors included the likes of Truman Capote, Tennessee Williams, and Woolworth heiress Barbara Hutton. When Spain relinquished Tangier back to Morocco in 1960, its duty-free status went with it, and the city lost a great deal of its flair. Tourism is slowly increasing once more, though: visitors succumbing to the city's proximity to Europe are discovering that its decayed grandeur still has much to offer, from its palm-treed promenade and sandy beach to the old town section, and its outlying villages and resorts. Seasoned Moroccan visitors, however, warn that it is best not to take on Tangier until you are acclimatised to the rest of the country, and to be vigilant with regards to safety after dark. Despite its fall from glory, a stylish cafe society has once again begun to build up in modern day Tangier's boulevards, and the merchants in the medina (old quarter) are doing good trade with tourists exploring its maze of narrow streets, all of which are within sight of the Spanish coast across the straits of Gibraltar. The city also has plenty to offer in the way of sightseeing.
Tangier has a Mediterranean climate with plenty of sunny weather and hardly any rain in summer (June to August). In July and August temperatures can rise as high as 86°F (30°C). Tangier winters (December to February) can get quite cool with minimum temperatures falling to 48°F (9°C). The highest rainfall is generally in November and December.
Become our Tangier Travel Expert
We are looking for contributors for our Tangier travel guide. If you are a local, a regular traveller to Tangier or a travel professional with time to contribute and answer occasional forum questions, please contact us.