Bazaruto Archipelago Travel Guide
Bazaruto Archipelago travel Forum
---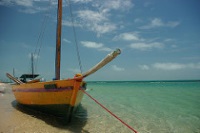 Margaruque island in the Bazaruto Archipelago © Richard Stupart
Consisting of five paradisiacal islands off the coast of Vilanculos, in Mozambique's Inhambane Province, the Bazaruto Archipelago is the most popular tourist area in Mozambique and widely considered to be the 'Pearl of the Indian Ocean'. It is a luxury destination sought after by divers, fishermen, nature lovers and sun seekers.
The main islands of Bazaruto and Benguerra, as well as the smaller Santa Catalina, Magaruque and Bangue islands, are protected within a national park, which is one of the largest of its kind in the Indian Ocean. The warm seas are home to whales, dolphins, manta rays, turtles and the endangered dugong, as well as many fascinating species of fish. This rich marine life is attracted by the unspoiled coral reefs, which provide underwater enthusiasts with first-rate scuba diving and snorkelling opportunities. On land, miles of deserted sandy beaches shaded by palm trees offer frazzled city executives a dream holiday getaway, where the most stressful thing required of them is deciding between activities like bird watching, fishing and shell collecting, or simply lying on the sand and enjoying the sunshine.
The largest and most popular island is Bazaruto, which gives the archipelago its name. To the west is the smallest island, Santa Carolina, nearly two miles (3km) long and less than half a mile (500m) wide, surrounded by protective coral reefs and deep water ideally suited to big game fishing. A narrow channel separates Bazaruto from its southerly neighbour Benguela, the second largest in the chain, followed by Magaruque, which is the closest island to Vilanculos on the mainland and primarily a diving resort. From Magaruque, the tiny uninhabited island of Bangue can also be explored.
Become our Bazaruto Archipelago Travel Expert
We are looking for contributors for our Bazaruto Archipelago travel guide. If you are a local, a regular traveller to Bazaruto Archipelago or a travel professional with time to contribute and answer occasional forum questions, please contact us.