Inhambane Travel Guide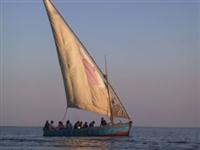 As Mozambique continues to establish itself on the global tourism map, exciting new tourist areas are springing up. One of these areas is Inhambane, a small city on the southeastern coast, about 290 miles (470km) north of Maputo and easily accessed by a tarred road. Previously, tourists merely passed through Inhambane on their way to the spectacular beaches of Tofo, Cocos and Barra. These days more and more are stopping over to savour the historic city, with its sleepy atmosphere, faded colonial architecture and famously friendly local population. In fact, the city's original name - Terra de Boa Gente, meaning 'Land of the Good People' - was bestowed on it precisely because of the inimitable charm of its locals.
Must-see tourist sights in Inhambane include the Church of our Lady of Conception - a 175-year-old building that features a rusted ladder leading to its top spire, offering panoramic views of the city's old quarter and the harbour - and the Mercado Central (Central Market), where a colourful array of fresh produce, including spices and nuts, is for sale. Adventurous travellers can strike out for the more remote areas of Inhambane Province, where picturesque villages and mangrove swamps are waiting to be explored.
Although most tourist activities like diving, snorkelling and whale-spotting take place at the beaches located about 14 miles (22km) up the coast, tourists to Inhambane are urged to take a ride in a traditional dhow to Maxixe; a larger city located across the bay. The experience of approaching a historic trading port in a historic trading vessel is unique, and very memorable.
Of particular interest to those planning a tour around southern Africa is the fact that Inhambane can be directly accessed from Johannesburg's OR Tambo International Airport via flights landing at Inhambane International Airport.
Become our Inhambane Travel Expert
We are looking for contributors for our Inhambane travel guide. If you are a local, a regular traveller to Inhambane or a travel professional with time to contribute and answer occasional forum questions, please contact us.