Pemba And Northern Mozambique Travel Guide
Pemba And Northern Mozambique travel Forum
---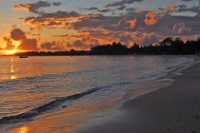 Wimbe beach, Pemba © F Mira
Pemba is a port town and the capital of the Cabo Delgado Province in the north of Mozambique. It has banks, patisseries, supermarkets and restaurants, yet it retains a ramshackle feel with its potholed streets. The town was built over rolling hills and most people live in wooden huts set among the many impressive baobab trees. The history of the people of the Cabo Delgado province lies in many centuries of African, Arab and Portuguese sailing, trading and settling. The Niassa Company founded Pemba in 1904 as Porto Amelia, named after a queen of Portugal. It was renamed Pemba at the end of Portuguese rule, in 1975. Tarred roads connect Pemba to Nampula and Ilha de Mozambique, and international flights and tourist facilities are steadily on the increase.
Although Pemba is renowned for its Portuguese colonial architecture, many of its attractions are natural, as it is a prime location for water sports and diving. Nearby Ibo Island offers empty stretches of beach to explore some of the world's richest coral reefs, and Quipaco Island is just 12 miles (20km) to the north. Nacole Baobab Nature Estate and Nkwita Lake are also within an hour's drive. There is an authentic local market (souk souk) in the centre of Pemba selling arts and crafts, as well as traditional silverware. It is quite large, extending 1.2 miles (2km) along one of the town's main thoroughfares. Avoid the ivory on sale at the market, as this is sold contrary to Mozambican and international law. Maconde arts and crafts are popular Mozambican souvenirs available from Pemba.
Become our Pemba And Northern Mozambique Travel Expert
We are looking for contributors for our Pemba And Northern Mozambique travel guide. If you are a local, a regular traveller to Pemba And Northern Mozambique or a travel professional with time to contribute and answer occasional forum questions, please contact us.