Yangon Travel Guide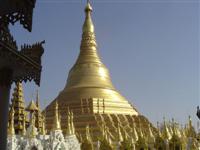 Shwedagon Pagoda © Wikipedia Commons
Yangon is Myanmar's largest and most interesting city, and its economic and diplomatic centre despite the 2005 creation of remote Naypyidaw as official capital of the ruling military junta.
The city was occupied by the British in 1852 when it became the centre of the Burmese Raj. The resulting influx of traders, diplomats and wealth transformed the city into a glorious regional hub. The legacy of this time is evident in the decaying though stately colonial buildings found along the Rangoon River and toward the centre of town. The city has myriad tourist attractions, most notably the famous Shwedagon Pagoda, which justifies a visit to the city all by itself and is the country's most beloved landmark. There are also markets to explore, and Yangon is a glorious city to trawl for jewels.
Yangon is hot and humid, especially at midday when most of the population takes refuge indoors or by the shade of a temple or banyan tree. It is a noisy and chaotic place too, with congested traffic, orange robed monks, neon signs and golden temple spires clashing in a visual landscape of uniquely Asian contradictions. Yangon is also Asia's safest city, the only positive consequence of the dictatorship that rules this country with impunity, so crime is really not a worry.
Become our Yangon Travel Expert
We are looking for contributors for our Yangon travel guide. If you are a local, a regular traveller to Yangon or a travel professional with time to contribute and answer occasional forum questions, please contact us.