Etosha National Park Travel Guide
Etosha National Park travel Forum
---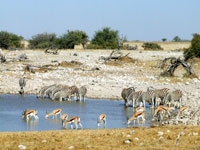 Okaukuejo waterhole, Etosha © Judith Duk
Etosha National Park, the 'great white place of dry water', is a vast area of shimmering mirages and saline desert, savannah and scrubby woodlands, situated 270 miles (435km) north of Windhoek. Its unique landscape is characterised by an immense, flat white saltpan, a shallow depression that is dry for the greater part of the year, but fed by moisture from perennial springs on the fringes. The pan covers about 25 percent of the park.
Once a vast lake, the pan was fed by the Kunene River, which changed its course thousands of years ago, leaving a dry hollow of salt and cracked clay, which only fills up for a short while after heavy rain. The temporary water supply attracts thousands of water birds, including flocks of pink flamingos, during the rainy season, but the best time for viewing animals in Etosha is the cool dry season, between May and September.
Etosha has three campsites: Okaukuejo, Namutoni and Halali. Visitors are not allowed outside the camp areas at night; however, there is a carefully lit watering hole at each campsite which allows for night game viewing from the safety of the campsite. Okaukuejo Campsite is located 10 miles (17km) from the park's southern entrance. The waterhole has benches and viewpoints and the camp is equipped with overnight accommodation facilities, camping sites, a restaurant and bar, curio shop and a swimming pool. Namutoni Campsite was built on an old German fort. It is located at Etosha's east gate and overlooks the King Nehale watering hole with great game viewing opportunities. The campsite has a small grocery shop, bookshop, craft boutique, jewellery and curio store. Camping and other accommodation options are available. Halali Campsite is between Namutoni and Okaukejo, just south of the main Etosha Pan, at the base of a dolomite hill. The watering hole is lit up at night and an elevated vantage point has been constructed so that visitors can watch nocturnal animals as they come to the pan. Accommodation options and camping facilities are available and there is also a swimming pool at the campsite.
In recent years, the Namibian Wildlife Resorts authorities have upgraded the accommodation facilities at each of Etosha's campsites; some of the upgrades were necessary, but some have just been used as a means to increase the accommodation and campsite fees. If you are travelling to Etosha, be sure to book in advance and double check both availability and charges so that you are not surprised by an astronomical bill.
The salinity and rich mineral content of the pan attracts a huge diversity of animal and bird life to the park, making it an excellent place for game viewing, with the expanse of the white desert an extraordinary backdrop. Etosha has a network of roads linking its three rest camps. Visitors can expect to see many species of antelope, wildebeest, zebra, lion, giraffe, and Africa's tallest elephants. Several of the animal species are endangered, including the black rhino. There are also opportunities to see lion, leopard and cheetah around the many waterholes scattered throughout the park.
Become our Etosha National Park Travel Expert
We are looking for contributors for our Etosha National Park travel guide. If you are a local, a regular traveller to Etosha National Park or a travel professional with time to contribute and answer occasional forum questions, please contact us.
Africa Miracles specialises in tailor-made holidays to Namibia. Travel to the website and find information on Namibia and suggested itineraries.
ADVERTISEMENT
---
iExplore designs made-to-order, privately-guided safaris to Namibia and adventures in over 200 other world wonders. Come Back Different!
ADVERTISEMENT
---
Intrepid Travel, one of the world's leading suppliers of small group adventures focused on getting off the beaten track, interacting with the locals and having real life experiences throughout Namibia.
ADVERTISEMENT
---