Fish River Canyon Travel Guide
Fish River Canyon travel Forum
---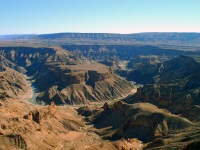 Fish River Canyon © Bries
Africa's largest canyon, and one of the largest in the world, the Fish River Canyon is located in southern Namibia in the eastern Namib Desert. The 100-mile (161km) long canyon was created by a fracture in the earth's crust and then further carved by the erosion of the Fish River over millions of years. The river can still become a torrent of fast-flowing water after heavy rainfall in summer, but dries up into occasional, semi-permanent pools during the winter months.
The main attraction of the area is hiking, but hiking the Fish River Canyon can only be undertaken during the winter months, and requires a high level of fitness and good health; there are no facilities whatsoever, so hikers must carry all they need. The five-day trail covers 53 miles (86km) and is the best way to take in the canyon's magnificent immensity, passing beneath the sheer cliffs with their visible rock strata patterns towering 1,640-foot (500m) above the harsh, rock-strewn plain. The canyon comes to an end at Ais-Ais (meaning 'burning water' in Nama) where one of the most famous hot spring resorts in the country is located, and hikers can look forward to a relaxing soak in the therapeutic hot water after completing the trail.
Become our Fish River Canyon Travel Expert
We are looking for contributors for our Fish River Canyon travel guide. If you are a local, a regular traveller to Fish River Canyon or a travel professional with time to contribute and answer occasional forum questions, please contact us.
Africa Miracles specialises in tailor-made holidays to Namibia. Travel to the website and find information on Namibia and suggested itineraries.
ADVERTISEMENT
---
iExplore designs made-to-order, privately-guided safaris to Namibia and adventures in over 200 other world wonders. Come Back Different!
ADVERTISEMENT
---
Intrepid Travel, one of the world's leading suppliers of small group adventures focused on getting off the beaten track, interacting with the locals and having real life experiences throughout Namibia.
ADVERTISEMENT
---