The Namib Desert Travel Guide
The Namib Desert travel Forum
---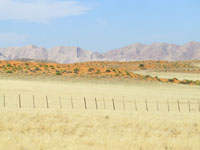 Namib-Naukluft Park © Judith Duk
The Namib Desert is the oldest and most arid desert region in the world, having been around for more than 80 million years. In the Nama language, 'Namib' means 'vast', a description perfectly suited to the miles of barren landscape stretching endlessly along Namibia's Atlantic coastline.
The northern Namib is called the Skeleton Coast, an intensely mysterious, inhospitable area of treacherous rocks and sand banks, dry gravel plains and isolated, flat-topped mountains. The bleak wilderness is especially eerie when blanketed in the thick coastal fog that is brought about by the collision of cold sea air and the searing heat of the harsh interior. Sailors washed ashore from shipwrecks over the centuries soon joined the skeletons that the coastline was named after, having no chance of survival in the pitiless wastes of the Namib Desert. Its appeal lies in its untouched quality, the colours and changing moods of the vast landscape, and the incredible adaptations to the desert habitat of its flora and fauna.
The southern Namib forms part of the Namib-Naukluft Park, one of Africa's most interesting and diverse nature reserves, including Sandwich Lagoon, an important wetland area for migratory birds, as well as canyons, rivers, and the Naukluft mountain massif, home to many species of animal, particularly the Hartmann's mountain zebra. This section of the Namib Desert is characterised by an endless sea of orange sand dunes, and the famous Sossusvlei dunes, the highest in the world.
Emerging from the desert stretch, and situated along the coast, is the charming little seaside resort of Swakopmund with its distinctly German character and old world charm, making a great base for any holiday in the Namib Desert.
Become our The Namib Desert Travel Expert
We are looking for contributors for our The Namib Desert travel guide. If you are a local, a regular traveller to The Namib Desert or a travel professional with time to contribute and answer occasional forum questions, please contact us.
Africa Miracles specialises in tailor-made holidays to Namibia. Travel to the website and find information on Namibia and suggested itineraries.
ADVERTISEMENT
---
iExplore designs made-to-order, privately-guided safaris to Namibia and adventures in over 200 other world wonders. Come Back Different!
ADVERTISEMENT
---
Intrepid Travel, one of the world's leading suppliers of small group adventures focused on getting off the beaten track, interacting with the locals and having real life experiences throughout Namibia.
ADVERTISEMENT
---