Windhoek Travel Guide
Why? A little bit of Germany in Africa, a holiday in Windhoek, capital of Namibia, is flavoured with traditional brews, sausage and sauerkraut to complement its colonial Teutonic architecture. Travel to Windhoek, though, and you will also find a good ethnic mix of colourful African culture that will leave you in no doubt that you are in the commercial heart of a vast southern African country.
When? The sun shines nearly every day of the year, and the weather is always warm to mild even in mid-winter, so there is no best time weather-wise to travel to Windhoek. Summers may be too hot for some, though, so a preferable period to holiday in Windhoek is either side of the hottest months, between April and June or March and October.
Who for? Most of those who travel to Windhoek, Namibia's main point of entry by air, come to use it as a jumping off point for a safari trip or desert expedition, spending a few days on holiday in Windhoek at the beginning or end of their journey to get to know the city.
More info: Find out what there is to do and see on a holiday in Windhoek by using our Windhoek travel guide, which is kept up to date and can be printed out to take with you when you travel to Windhoek.
---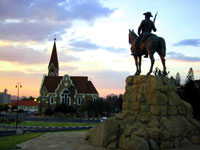 Windhoek ©
The small, Germanic capital of the country, Windhoek is an attractive city situated in the Central Highlands and surrounded by hills and mountains, occupying the geographical and economic heart of Namibia.
The city centre is characterised by historic German colonial architecture and imposing modern structures. Dominating the skyline is the striking German Lutheran church, Christuskirche, a mixture of Art Nouveau and neo-Gothic design, and the Titenpalast, or 'Ink Palace', the parliament building from where the sparsely populated country is governed. The railway station is a Cape Dutch edifice dating back to 1912 and Independence Avenue is a pleasant tree-lined place with fountains and walkways providing a relaxing ambience among the modern buildings of the central business district. The women of the Herero tribe, cattle herders of the region, are very distinctive with their voluminous Victorian-style dresses and colourful headgear.
The German influence is not only apparent in the architecture and colonial style buildings, but is evident in the food and locally-brewed beer. Polony and sauerkraut are available on the menu among local dishes, including seafood from the west coast and venison or game steaks from the hinterland.
Become our Windhoek Travel Expert
We are looking for contributors for our Windhoek travel guide. If you are a local, a regular traveller to Windhoek or a travel professional with time to contribute and answer occasional forum questions, please contact us.
Africa Miracles specialises in tailor-made holidays to Namibia. Travel to the website and find information on Namibia and suggested itineraries.
ADVERTISEMENT
---
iExplore designs made-to-order, privately-guided safaris to Namibia and adventures in over 200 other world wonders. Come Back Different!
ADVERTISEMENT
---
Intrepid Travel, one of the world's leading suppliers of small group adventures focused on getting off the beaten track, interacting with the locals and having real life experiences throughout Namibia.
ADVERTISEMENT
---