Omaha Travel Guide
Why? Omaha is situated along the I-80, a major US interstate connecting the two coasts. Many unknowing travellers simply drive through (or fly over), not realizing Omaha is a more-than-worthy stop to add to a cross-country trip.
When? For financial gurus, the only time to visit is in the spring, during the annual Berkshire Hathaway meeting, when Omaha becomes the centre of the financial universe for one weekend. Even for the less stock-savvy, spring is a good choice, as is autumn, when the weather is pleasanter than in summer and winter.
Who for? With its indie music scene and various arts initiatives, including the Bemis Center for Contemporary Arts residency program, Omaha is becoming a beacon for the progressively creative. Rooted in the Midwest, however, it is also a great place for families, who will enjoy the zoo, Omaha Children's Museum as well as Fun Plex, Nebraska's largest water park.
More Info: Our Omaha travel guide is updated daily to provide current information on all aspects of a holiday in Omaha, from the top attractions and excursions to how to use the bus service.
---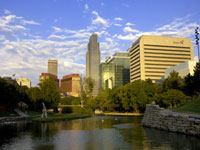 Omaha ©
Omaha has long been saddled with a reputation as a flyover city, that is, a place those living in more happening areas are content to see merely from the air when hopping from one coast to the other. But over the past 20 years, the city has slowly been transforming itself, edging out middle American blandness while retaining the friendly, down-to-earth manner of the Midwest.
The heart of the city, from which this new pulse emanates, is its arts and entertainment district, the Old Market. The area is made up of block after block of renovated industrial and warehouse buildings from the 1800s, which now house a variety of unique shops, boutiques, bookstores, galleries and some of Omaha's finest restaurants. Homer's Music is an Old Market institution and, in addition to hosting live events itself, can provide the latest information on Omaha's thriving indie rock scene. Not one to ignore any form of artistic expression, the city also has a burgeoning film industry, with Omaha native Alexander Payne having chosen it as the setting for Election and About Schmidt (depicting, perhaps, that less vibey side of Omaha).
When pounding Old Market's charmingly uneven pavements becomes tiring, the Heartland of America Park next door is perfect for leisurely strolls along the mighty Missouri. Work on a pedestrian bridge spanning the river is currently underway; when completed in 2008, it will be one of the world's longest. But Omaha, some may be surprised to hear, already has experience with world renown. Here visitors can explore the largest indoor rain forest in the world at the famous Henry Doorly Zoo; historic aircraft and missiles at the Strategic Air and Space Command, the foremost museum of its kind; and perhaps catch a glimpse of America's second-richest man and lifelong Omaha resident, Warren Buffett, dining at Gorat's, his favourite local steakhouse.
Become our Omaha Travel Expert
We are looking for contributors for our Omaha travel guide. If you are a local, a regular traveller to Omaha or a travel professional with time to contribute and answer occasional forum questions, please contact us.