Himalayas Travel Guide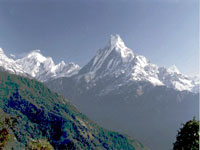 Machhapuchhare, Annapurna region © Scott Yost
Trekking is the most popular activity in Nepal and is the best way to experience the natural splendour and cultural riches of the Himalayas. Differences in altitude support a wide range of vegetation types and lifestyles and famous peaks shelter remote mountain villages that are untouched by modern ways of life.
Most treks follow well-used foot trails that have been in use for hundreds of years, connecting pastoral settlements, little mountain villages of stone and wood, and monasteries, temples and shrines. Mountain trekking is not a solitary wilderness experience, as trails are shared with pilgrims and traders driving fully laden yaks or donkeys over the high mountain passes. Herders and other parties of tourists can also provide some company, along with their guides and quick-footed porters beneath their enormous loads. Trails cross high over rivers on swaying suspension bridges, meandering up valleys and past green terraced fields, through Tibetan-style stone hamlets a-flutter with colourful prayer flags, where ancient prayer wheels on the main route are kept spinning by the stream of passers by.
Whatever region one chooses to trek in, the magnificent scenery is always dominated by soaring heights and icy mountain peaks. Different regions allow a range of trekking options, from easy walking for a few days to strenuous expeditions lasting a few weeks, from circular routes around the Annapurnas, to summit assaults on Mount Everest. There are also different approaches to trekking in Nepal, depending on time, money and experience. Organised, all-inclusive treks include porters, guides, cooks, tents, equipment and transport, and provide comfort and security as well as eliminating lengthy preparations beforehand. Teahouse treks follow the most popular trekking routes in the entire Annapurna region, Langtang area and the Everest region, and allow walkers to make their own way from village to village, carrying minimal equipment and relying on 'teahouses' for food and accommodation. It is also possible to hire a guide and/or porters for these expeditions. For those wanting to get away from it all there are also many less-developed routes in more remote regions.
A trekking permit is no longer required in many regions, including the popular Annapurna, Everest and Langtang areas; however a fee must be paid to trek in a designated national park, conservation area or wildlife reserve, which can be paid at the entrance (NPR 1,000 or NPR 2,000 for most areas). The Annapurna region requires the fee to be paid in advance at the ACAP office in Kathmandu or Pokhara (NPR 2,000 for the permit and NPR 1,400 for the TIMS Card), which goes towards environment conservation and maintenance of the area. Fees and entrance charges have been known to change without notice, it is best to check the situation on the ground before you embark on your trek or risk paying a NPR 4,000 penalty whenever you are caught without the correct permit.
Become our Himalayas Travel Expert
We are looking for contributors for our Himalayas travel guide. If you are a local, a regular traveller to Himalayas or a travel professional with time to contribute and answer occasional forum questions, please contact us.
iExplore designs made-to-order, privately-guided adventure tours to Nepal. Come Back Different!
ADVERTISEMENT
---
Intrepid Travel, one of the world's leading suppliers of small group adventures focused on getting off the beaten track, interacting with the locals and having real life experiences throughout Nepal.
ADVERTISEMENT
---