Kathmandu Travel Guide
Why? A holiday in Kathmandu is now easy to arrange, but this fabled city was once one of the world's most inaccessible destinations. Travel to Kathmandu, capital of Nepal, to start expeditions into the rest of the country and to experience this beautifully-situated city with its vibrant traditions, well preserved architecture, and fascinating Buddhist and Hindu culture.
When? The best months to visit Kathmandu for a holiday are October to November and March to April, when the weather is warm and largely sunny, and the air is crisp and clear. Winters (November to February) are exceedingly cold, while early summer (May and June) is swelteringly hot and humid. Monsoon rains drench the city between June and September.
Who for? A holiday in Kathmandu attracts mainly independent travellers intent on undertaking adventure trips in Nepal like trekking, rafting and mountain climbing. The city has a range of accommodation for all budgets, and plenty of restaurants in its Thamel tourist district, and is thus able to cater for all sorts of modern travellers.
More Info: A host of useful background information and details of attractions of excursions required for a holiday in Kathmandu is contained in our comprehensive Kathmandu travel guide, which can be printed out or emailed. The guide also gives the run down on essential facts for travel to Kathmandu, like entry requirements, foreign exchange, safety and health.
---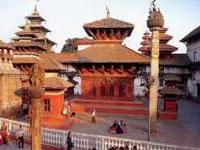 Durbar Square, Kathmandu © Services International
Presided over by snow-covered mountains, the Kathmandu Valley is surrounded by verdant agricultural hills scattered with traditional villages and brick houses, rich in ancient holy temples and shrines used by both Buddhists and Hindu worshippers reflecting a great wealth of culture and tradition. Most of Nepal's ethnic groups are represented in the Valley, particularly in Kathmandu itself, but it is the Newars who are the original inhabitants responsible for development and the splendid art and architecture in the cities.
The Valley is the cultural, political and commercial centre of Nepal and encompasses three cities: Kathmandu the capital; Patan, which has been enveloped by the growing Kathmandu outskirts; and the medieval city of Bhaktapur. For the unprepared visitor, the capital city of Kathmandu can trigger a sensory overload - it is a heaving city of both intriguing and unpleasant smells, incessant noise and pollution, and sights that etch themselves on the memory. Cows wander the streets of the old city, stepping between steaming piles of rubbish and hooting taxis, and narrow alleyways overflow with spices, vegetables and handicraft shops. Throngs of people thread their way along bustling cobblestone streets lined with structures from an ancient architectural heritage, which lead onto open squares surrounded by temples of all shapes and sizes. The largest city in Nepal and the nation's historical centre, Kathmandu throws together a blend of the country's varied population and boasts a distinctive, age-old religious influence visible in the daily life of its inhabitants.
Fascinating as this city is however, many people choose to stay outside Kathmandu in one of the Valley towns or mountain resorts and restrict their visit to day trips; or they base themselves in the tourist-orientated Thamel district of the city that offers modern bakeries, smart hotels and upmarket restaurants, along with pushy handicraft and cannabis sellers.
Become our Kathmandu Travel Expert
We are looking for contributors for our Kathmandu travel guide. If you are a local, a regular traveller to Kathmandu or a travel professional with time to contribute and answer occasional forum questions, please contact us.
iExplore designs made-to-order, privately-guided adventure tours to Nepal. Come Back Different!
ADVERTISEMENT
---
Intrepid Travel, one of the world's leading suppliers of small group adventures focused on getting off the beaten track, interacting with the locals and having real life experiences throughout Nepal.
ADVERTISEMENT
---