Delft Travel Guide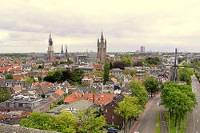 Delft, Netherlands © Boserma
South of Amsterdam lies Delft, a Dutch city famous for its distinctive blue and white ceramics. There is much more to Delft than china, however, and the city has a 750-year history full of drama and excitement.
Founded in 1246, Delft became a prosperous city until much of it was destroyed by a great fire in 1536. It was hit with another disaster in 1654, when a gunpowder warehouse exploded and large sections of the city were destroyed. Delft has also been the site of Dutch East India Company offices, acting as a major trading centre in the Netherlands. Nowadays, Delft is one of the prettiest towns in the Netherlands, with a number of beautiful buildings and a network of canals that are pleasant to stroll along. There are a few museums worth visiting, and the Thursday Market at the main square is a great place to both soak up some local culture and do a bit of souvenir shopping.
The city has a lively atmosphere thanks to the 13,000 students of the Delft University of Technology, and there are a number of cafes, restaurants, bars and nightclubs to keep everyone entertained. While Delft has no red light district, there are a few marijuana coffeeshops in town as well, though whether these are still accessible to tourists is open to debate.
Of course, the famous earthenware is not to be forgotten and apart from the touristy shop windows, which overflow with a sea of blue and white, visitors can make a stop at the factory which produces the most iconic pieces. The white and blue decorative pottery, the trademark of Royal Delftware, was influenced by Chinese porcelain brought back from the east by the tradesmen of the Dutch East India Company. The Royal Delftware Factory (Koninklijke Porceleyne Fles) is the only remaining earthenware factory in Delft and dates back to the 17th century. Visitors to the factory can see painting demonstrations, attend painting workshops or visit the factory's museum and showroom.
Become our Delft Travel Expert
We are looking for contributors for our Delft travel guide. If you are a local, a regular traveller to Delft or a travel professional with time to contribute and answer occasional forum questions, please contact us.