United States of America

---

---

---

---
Las Vegas Travel Guide
Las Vegas Travel Guide
The only place in the world where you can gamble in Ancient Egypt, float along the canals of Venice, and party in Ancient Rome in one night, the glittering, hedonistic extravaganza that is Las Vegas never wanes in popularity:
Bright, brash and lavish, there is no reason to holiday in Las Vegas other than the pursuit of pleasure and entertainment, because that is why this city in the Nevada desert exists. Travel to Las Vegas to discover a city of fun and fantasy, filled with mega-resort casinos. Vegas has been dubbed the entertainment capital of the world, and its 'wow factor' continues to grow along with its building budgets.
No longer is a holiday in Las Vegas just for gamblers. The casinos flourish, of course, but the city is now a well-rounded destination which offers everything from wildlife viewing to theme park thrills, from world class shows to spectacular night clubs. This is truly a destination for everyone and anyone who is just out to have fun. Even if one never enters a casino, the shopping, the lavish resorts, the restaurants, the theme parks, and the famous nightlife, will keep the excitement at boiling level for the duration of a holiday in Las Vegas.
Best time to visit Las Vegas
Anytime is a great time to holiday in Las Vegas, which is situated in a desert and therefore bathed in sunshine all year round. Summers, between June and August, can be blindingly hot, but never fear, everything indoors is air-conditioned. Read more on Las Vegas' Climate and Weather.
What to see in Las Vegas
-Watch the spectacular fountain show outside the iconic Bellagio Hotel and Casino.
-Admire the famous neon lights at the Fremont Street Experience in downtown Vegas.
-Enjoy the many swimming pools of Mandalay Bay Resort, voted the best in the city.
-Get a taste of Venice at Venetian Hotel, and a taste of Egypt at The Luxor.
What to do in Las Vegas
-Try your hand at driving massive bulldozers and excavators at Dig This.
-Get your adrenalin fix on one of the many roller coasters that compete in the city.
-Gamble away the night in the famous MGM Grand.
-Treat the kids to thrills and spills at Adventuredome.
Beyond Las Vegas
Although primarily known for its man-made glitz, many wonderful natural attractions lure visitors out of Las Vegas: popular excursions out of the city include visits to the awe-inspiring Grand Canyon, the engineering marvel of Hoover Dam, and the beautiful desert landscapes of Red Rock Canyon and Valley of Fire State Park.
Getting there
Las Vegas McCarran International Airport, located five miles (8km) south of central Las Vegas, is the busiest air hub in the state and the entry point for the vast majority of foreign visitors. Get more information on Airports in Las Vegas.
Did you know?
-On average, there are more than 300 weddings in Las Vegas every day.
-Las Vegas is said to be the brightest place on Earth when viewed from space.
-There are no clocks and no windows in Las Vegas casinos, to prevent gamblers noticing time passing.
---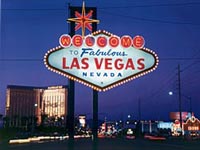 Las Vegas ©
Set in the middle of the vast Mojave Desert, Las Vegas was created entirely to entertain and has been described as the world's largest theme park. This psychedelic city of sin is home to over a million people and welcomes 35 million more each year to its lavish hotels and casinos. Visitors today are amazed that only 70 years ago this thriving metropolis was a backwater with less than a thousand inhabitants whose only guests were railway passengers stopping off to stretch their legs on the long journey between Los Angeles and Salt Lake City.
Things started to change in March 1931 when the State of Nevada legalised gambling; one month later the city issued six licenses. Then in 1946, Mafia don Ben 'Bugsy' Siegel opened the sensationally lavish Flamingo Hilton on Highway 91. Las Vegas Boulevard was born and the city would never be the same again.
Soon stars like Elvis, Liberace and Sinatra were making the pilgrimage to what was fast becoming America's premier entertainment centre. In the early days the Mafia dominated the gambling industry but in the 1960s their influence waned and soon all the large hotels and casinos were controlled by big business.
Las Vegas has 18 out of 21 of the largest hotels in the world and walking down 'The Strip' visitors will see the skylines of New York and Paris, discover the canals of Venice and the Pyramids of Egypt and, at Treasure Island, see a full-on sea battle between a pirate ship and a British Galleon. Despite these excesses, room rates and restaurant bills are said to be some of the lowest in the western world - all subsidised by gamblers intent on a free holiday.
Although the principal draw card is still gambling, Las Vegas is now marketed as a family destination and there is no shortage of theme parks, shopping malls or golf courses. However, the vast majority of visitors come to gamble or party and the incredible displays are mostly designed to lure passers-by into the casinos, and once there it's hard to leave; the exits are discreetly hidden.
Become our Las Vegas Travel Expert
We are looking for contributors for our Las Vegas travel guide. If you are a local, a regular traveller to Las Vegas or a travel professional with time to contribute and answer occasional forum questions, please contact us.