United States of America

---

---

---

---
Reno Travel Guide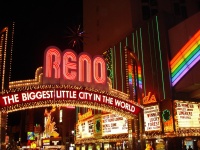 The famous arch in Reno ©
Priding itself on being 'the Biggest Little City in the World', Reno packs a powerful punch, giving visitors something to think about the next time they assume Las Vegas is the only place worth visiting in Nevada. Reno is like a more laid-back, scaled down version of Vegas, with plenty of casinos and a fun nightlife, but the city has developed a character of its own.
Nestled alongside the beautiful Sierra Nevada Mountains, Reno began as a toll bridge for gold rush migrants and prospectors and has since become a gateway for adventure-seeking travellers en route to the great outdoors. Key natural attractions nearby include Squaw Valley and Lake Tahoe, two of the United States' most popular ski resorts, the latter to host the 2022 Winter Olympics.
Reno is also the starting point for travellers heading to the annual Burning Man festival and many 'burners' pass through on their way to the Black Rock Desert, site of this iconic event. Other passersby may be heading to the eastern gates of the Yosemite National Park, which are located just under two hours' drive from Reno.
With Nevada's liberal gaming laws, Reno had a good casino business for over 50 years, but due to the tough competition from Las Vegas, this has slowed down in recent years. However, the city still has a bustling nightlife fraught with bright neon lights, bars, clubs, shows, slot machines and plenty of debauchery, especially with the resident students that attend the University of Nevada, which is, coincidentally, a great place for visitors to take an afternoon stroll.
One can also visit the National Automobile Museum where John Wayne's 1953 Corvette #51 can be seen, or visit the Nevada Museum of Art to view local works, while culture vultures can enjoy performances by the Reno Philharmonic Orchestra between the months of September and April. Spring and autumn are the best times of year to visit, when the summer heat has not yet kicked in, the winter frost is still at bay, the weather is warm and mild, and the days are cooled off by the infamous Washoe Zephyr, Nevada's distinctive wind.
Become our Reno Travel Expert
We are looking for contributors for our Reno travel guide. If you are a local, a regular traveller to Reno or a travel professional with time to contribute and answer occasional forum questions, please contact us.