United States of America

---

---

---

---
Albuquerque Travel Guide
Why? Holiday in Albuquerque if you have a taste for top class New Mexican cuisine and enjoy plenty of diversions to work off the culinary over-indulgence. This vibrant city on the Rio Grande also offers a glimpse of historic New Mexican life.
When? Picking a good time to travel to Albuquerque is a matter of individual preference, the city having vast extremes of temperature between the seasons. Summer holidays in Albuquerque are for those who like it hot, while in mid-winter the thermometer plunges to below freezing. A popular time to visit is in October for the annual hot-air balloon festival.
Who for? A holiday in Albuquerque suits those who enjoy good (spicy) food and indulge in a variety of active pursuits, from cycling to dancing. Families who holiday in Albuquerque will find plenty of natural and recreational attractions, as well as excursions, to fill their time.
---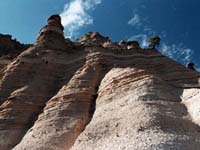 Tent Rocks, Albuquerque © Justin Gould
New Mexico's largest city has been described as having one foot in the past, one in the present, and its eyes firmly set on the future. This certainly sums up this multi-cultural city, spread across the desert plains beside the Rio Grande, known for its high-tech research facilities, sentimentally proud of its historic Old Town, and offering a mix of museums, galleries, spicy restaurants and great shopping centres to satisfy the appetite of every kind of visitor. Albuquerque has an ultra-relaxed attitude, with shorts and t-shirts the unofficial uniform and locals cracking jokes about living in a 'dusty hick town'. But the city's numerous attractions are on-hand to prove them wrong.
Albuquerque was born back in 1706 when a group of Spanish colonists decided that the point on the Rio Grande where the river made a sweeping curve, backed by the wooded slopes of the nearby Sandia Mountains, would be a useful place to start a settlement. Water for irrigation and wood for building was plentiful, and the local Indian pueblos were available for trading. The new town, at first just a cluster of mud houses around a small adobe church, was named for Spain's 10th Duke of Albuquerque. Today the original church, San Felipe de Neri, stands enshrined in the centre of the historic heart of the city, the hub of various special holidays and feast days, drawing visitors and locals alike.
One of the most splendid sights Albuquerque has to offer happens only once a year: each October the International Balloon Fiesta has all eyes focussed on New Mexico's blue skies as hundreds of hot air balloons sail past. Every day of the year, though, the city offers up its attractions such as the zoo, aquarium, museums and vineyards for enjoyment, as well as an array of activities like skiing, golfing, mountain biking, hiking or simply dancing the night away. If all else fails, you can always eat - mild or with chilli, there is nothing to beat New Mexican cuisine to really add spice to life.
Become our Albuquerque Travel Expert
We are looking for contributors for our Albuquerque travel guide. If you are a local, a regular traveller to Albuquerque or a travel professional with time to contribute and answer occasional forum questions, please contact us.