United States of America

---

---

---

---
Santa Fe Travel Guide
Why? The bright and beautiful capital of New Mexico at the foot of the Rocky Mountains is classily arty, fascinatingly ancient, sky-high and sunny, and most of all a holiday in Santa Fe is a great way to 'go native'. Travel to Santa Fe to explore the remains of its 2,000 year-old Pueblo civilisation along the Rio Grande, and a colonial history dating back 400 years in the central plaza and winding alleys of the city itself.
When? With almost year-round sunshine and a climate that never gets too hot or too cold (despite a good few inches of snow in winter), Santa Fe is a city for all seasons. Peak season for a holiday in Santa Fe though is during July and August, when the event calendar is packed with opera, music festivals and the streets teem with markets. Another popular time to travel to Santa Fe is at Christmas, when a number of Native American ceremonies take place and a variety of Spanish festivities light up the town.
Who for? Art lovers, in particular, enjoy a holiday in Santa Fe with its feast of 200 or more top galleries. The city also satisfies the cravings of shopaholics with its stores and stands peddling a bewildering array of crafts, collectibles, antiques, gifts and clothing.
More Info: To whet your appetite for a holiday in Santa Fe, and to obtain all the information you require about the attractions, events and excursions available in the city, make use of our Santa Fe travel guide, which is updated regularly and can be printed out to take along on your holiday in Santa Fe.
---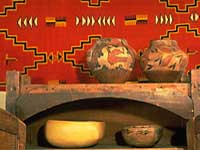 Red rug with pots © Jack Parsons/Santa Fe CVB
New Mexico's capital city and the oldest capital in the United States, Santa Fe, is sited just 60 miles (97km) north of the state's largest metropolis, Albuquerque, from which it differs quite remarkably. Where Albuquerque is high-tech and expansive, Santa Fe is arty and intimate. The home of Georgia O'Keefe, the city has become a haven for artists of all persuasions, featuring more than 250 art galleries and studios.
Tourists not only flock to this 400-year-old city at the foot of the Rocky Mountains for the museums and galleries, but also because it is surrounded by almost a hectare (two acres) of National Forest, offering great opportunities for skiing, rafting, golf, horseback riding, mountain climbing, hiking and a host of other associated recreational pursuits, including unusual activities like geocaching.
More urban attractions are plentiful as well, with enough to keep the whole family busy. Kids will love the Santa Fe Children's Museum and going for a ride on the Southern Railway, while adults will enjoy the numerous art museums and Spanish colonial architecture. Everyone can enjoy Santa Fe's multitude of festivals, including wine festivals, rodeos, cultural events, and film and art festivals. Santa Fe's music calendar is full as well, and the Santa Fe Opera enjoys an international reputation.
The local culture is built firmly on Spanish and Native American roots, which is reflected in the city's historic architecture and the crafts sold on the plaza by the hawkers. The city is also confusing to navigate by car, with its narrow winding lanes and one-way streets, making it best explored on foot from its busy central plaza. Santa Fe makes an ideal base from which to explore the many Indian pueblos, which are within an hour's drive throughout the valley of the Rio Grande.
Become our Santa Fe Travel Expert
We are looking for contributors for our Santa Fe travel guide. If you are a local, a regular traveller to Santa Fe or a travel professional with time to contribute and answer occasional forum questions, please contact us.