Sydney Travel Guide
Why? Sunny Sydney is one of the world's top holiday destinations, offering stunning beaches, vibrant nightlife, superb shopping and delectable restaurants.
When? The most popular time to travel to Sydney is during the summer months, between November and March, when it is constantly hot and sunny. Winter in Sydney (June to August) is mild but damp, and nights can be chilly.
Who for? Sydney caters for all ages. Sun-lovers head for the beaches; families can explore the attractions of Darling Harbour; gourmets delight in the restaurants at The Rocks; adventurers can climb the iconic Harbour Bridge; while the less active can stroll the magnificent Botanic Gardens. Sydney is also a popular gay holiday destination, especially during late February when the annual Gay and Lesbian Mardis Gras takes place.
More Info: Our Sydney travel guide includes everything from essential information on currency and entry requirements to full reviews of restaurants, attractions and upcoming events.
---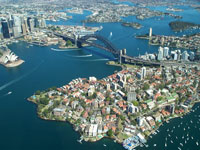 Sydney Harbour aerial © Rodney Haywood
Sunny, seductive Sydney is a high contender for the title of the world's most ideal city. It is slick and smart, the streets are clean, the neighbourhoods and busy pedestrian precincts pristine, the parks sublime, the water in the huge harbour blue, and the landmark buildings breath-taking. Sydney's population is approaching five million, but it is easy to leave the frenetic urban pace behind with just a simple ferry ride to the North Shore for a bush walk, enjoy a stroll along the harbour beaches or take any one of a number of daytrips to explore the 'real' Australia on the city's doorstep.
Just like its characteristic white-sailed Opera House, Sydney seems to cruise effortlessly through nights and days filled with myriad entertainment opportunities, sophisticated shopping, memorable museums, and strings of beautiful beaches. Visitors find it exhausting to take it all in, even though the tourist precinct where most of the interesting attractions are to be found is concentrated in quite a small area around the downtown waterfront and harbour area.
The fact that Sydney is a thriving seaport and industrial city has been cleverly concealed behind attractive pleasure and leisure grounds and residential suburbs, making full use of the scenic, watery geographical location. The harbour area is dominated by the span of one of the world's largest arched bridges, backed by towering skyscrapers. It is all a far cry from the remote penal colony established by the British back in 1788.
Another plus for visitors is that compared to most big cities Sydney offers excellent, reasonably priced food, accommodation and public transport. The city also has an excellent suburban rail network, with its hub at Circular Quay in the city centre, and full use is made of the waterways with ferries and passenger jet boats plying to and from various points.
Our Travel Expert
Candice Brissenden is a South African studying and performing as a musician in Sydney.
>Read Candice's tips on Sydney
>Ask Candice a question
---
Become our Sydney Travel Expert
We are looking for contributors for our Sydney travel guide. If you are a local, a regular traveller to Sydney or a travel professional with time to contribute and answer occasional forum questions, please contact us.
---