Hudson Valley And The Catskills Travel Guide
Hudson Valley And The Catskills travel Forum
---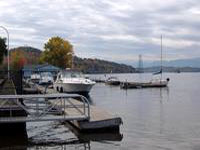 Hudson riverfront © Michael R. Weaver
Just north of New York City, the Hudson Valley is surprisingly rural and is littered with charming towns, picturesque farms and old mansions. Many New Yorkers head this way at the weekend attracted by the slower pace of life and the scenic drives. The region's capital, Albany, was founded by Dutch fur trappers in the 17th century and made its money by controlling trade along the Erie Canal. There is not a great deal to do or see in Albany, but sights include the New York State Museum and the Albany Institute of History and Art, which has a good collection of Hudson River School paintings.
The allure of the region lies in the Catskills, a scenic mountain range with excellent hiking trails and opportunities for outdoor activities like golf, hunting, and skiing. The area is a great place to see the fall colours, making it a must-visit excursion from New York City in October.
Become our Hudson Valley And The Catskills Travel Expert
We are looking for contributors for our Hudson Valley And The Catskills travel guide. If you are a local, a regular traveller to Hudson Valley And The Catskills or a travel professional with time to contribute and answer occasional forum questions, please contact us.