United States of America

---

---

---

---
Hudson Valley And The Catskills Travel Guide
Hudson Valley And The Catskills travel Forum
---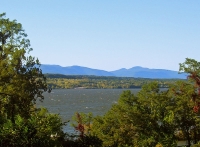 The Catskills over the Hudson River © Daniel Case
Just north of New York City, the Hudson Valley is surprisingly rural and is littered with charming towns, picturesque farms and old mansions. Many New Yorkers head this way at the weekend, attracted by the slower pace of life and the scenic drives. The region's capital, Albany, was founded by Dutch fur trappers in the 17th century and made its money by controlling trade along the Erie Canal. There is not a great deal to do or see in Albany when it comes to traditional cultural sightseeing, but sights include the New York State Museum and the Albany Institute of History and Art, which has a good collection of Hudson River School paintings.
It is no surprise that the beautiful Catskills Mountains area, northwest of New York City, has long been a popular vacation spot and the choice of many a wealthy New Yorker for their summer home. The region is dotted with picturesque towns, reservoirs, forests and parks, historic buildings and plenty of resorts, and there is much to see and do. Nicknamed the Borscht Belt, from the 1940s to the 1960s, The Catskills was highly popular with Jewish New Yorkers in particular, and some of the finest Jewish comedians sprang from the area, including Woody Allen, Mel Brooks and Joan Rivers. The region is also famous for hosting one of the world's best-known entertainment events, the 1969 Woodstock Festival. Over 500,000 free spirits gathered on Max Yasgur's dairy farm in Bethel to see some of the finest musicians of the era; today, the site is open to the public, as is a museum that houses archives and interesting information from the event. The Catskills also offer plenty of exciting outdoor activities, including hunting, fly-fishing, skiing, canoeing, hiking, camping and even golf.
Hudson Valley and The Catskills is a great region to explore during autumn as the fall foliage is striking - if you aren't visiting to ski then October is the best time to visit.
Become our Hudson Valley And The Catskills Travel Expert
We are looking for contributors for our Hudson Valley And The Catskills travel guide. If you are a local, a regular traveller to Hudson Valley And The Catskills or a travel professional with time to contribute and answer occasional forum questions, please contact us.