United States of America

---

---

---

---
Western New York State Travel Guide
Western New York State travel Forum
---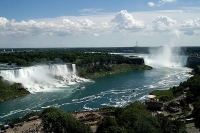 Niagara Falls © Saffron Blaze
Known as the 'Western Door' by the indigenous population of Seneca Native Americans who originally inhabited the area, the western region of New York State is more than just a gateway to the rest of the country. A spectacular mix of farmlands, gorges, lakes and waterfalls exists here; a diversity of landscapes forged by ancient glaciers. Strategically situated on two of the Great Lakes, Erie and Ontario, Western New York borders Canada and is a critical link between the two countries, as well as a major commercial and transportation hub for upstate New York.
Perhaps the biggest draw card to this area is the breath-taking beauty of Niagara Falls, in the extreme northwest of the state, a spectacle that attracts millions of visitors annually. The Finger Lakes, below Lake Ontario, are also an immensely popular attraction and the area surrounding the lakes is home to the country's oldest commercial wine producing area. Cliff-hugging vineyards compete with rolling farmlands, and fields of sunflowers border picturesque towns harking back to the Victorian era. The region is not all sleepy hollows and rural landscapes, however, and bustling cities such as Rochester and Buffalo offer top class amenities and attractions, including parks, museums, galleries and fine restaurants.
The Western New York State region is therefore a healthy mix of natural beauty and urbanity, and there is plenty to see and do, from hiking, fishing, and white-water rafting, to wine tasting, shopping and dining.
Become our Western New York State Travel Expert
We are looking for contributors for our Western New York State travel guide. If you are a local, a regular traveller to Western New York State or a travel professional with time to contribute and answer occasional forum questions, please contact us.