Auckland Travel Guide
Why? Most who visit New Zealand travel to Auckland because it is the country's largest city with a relaxed lifestyle. It is also one of the world's most beautiful cities, surrounded by water and spread out across verdant green belts, making a holiday in Auckland a very pleasant experience.
When? Anyone contemplating a holiday in Auckland should be prepared to get wet, not only because the city is built around water, but because rain is common all year round, particularly drenching in winter. Temperatures, however, are mild to warm throughout the year. Summer is the recommended time to travel to Auckland.
Who for? Being a city of multi-cultural immigrants many people holiday in Auckland to spend time with family members. Sailors are in their element with an Auckland holiday, the city being a major yachting centre. Generally, anyone who enjoys a relaxed urban environment with the added bonus of waterfront activities will relish an Auckland holiday.
More Info: Our Auckland travel guide is a mine of information for visitors to the city, containing comprehensive, up to date information to plan all aspects of an Auckland holiday.
---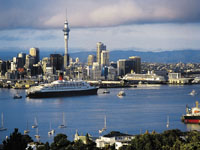 Auckland harbour © New Zealand Tourist Board
Auckland is situated on a narrow strip of land, flanked by two magnificent harbours to the east and west. The shallow Manukau Harbour opens out to the Tasman Sea to the west, while the Waitemata Harbour lies at the heart of the city centre and is Auckland's deepwater port. It has a vibrant waterfront that has flourished with the successful hosting of the America's Cup, and the trendy restaurants and waterside cafes are a constant hive of activity.
Known as the 'City of Sails', with a larger boat-to-person ratio than anywhere else on earth, it is a paradise for sailing enthusiasts and every weekend the waters of the Hauraki Gulf come alive with a flotilla of colourful sails. The best way to experience the city is from the water, sailing around the attractive harbour or on a ferry cruise to one of the many stunning islands dotted about the Gulf.
Auckland is the largest and most cosmopolitan city in New Zealand, and acts as a major gateway to the rest of the country. Yet it is also one of the least densely populated in the world, covering an area twice the size of London but with barely a million inhabitants. It has a friendly small-town atmosphere and a relaxed pace of life.
Beyond the bustling downtown area, dominated by the southern hemisphere's tallest building, the Sky Tower, the city sprawls outwards, with low-slung buildings and wooden houses among leafy parks and walking tracks. The suburbs wind their way around picturesque bays and harbours and between volcanic hills that provide panoramic views over the city and mountains, encompassing numerous green urban parklands that are dotted with sheep.
Become our Auckland Travel Expert
We are looking for contributors for our Auckland travel guide. If you are a local, a regular traveller to Auckland or a travel professional with time to contribute and answer occasional forum questions, please contact us.
iExplore designs made-to-order, privately-guided adventure tours to New Zealand and over 200 other world wonders. Come Back Different!
ADVERTISEMENT
---
Intrepid Travel is one of the world's leading suppliers of small group adventures focused on getting off the beaten track and having real life experiences in New Zealand.
ADVERTISEMENT
---