Christchurch Travel Guide
Christchurch travel Forum
---
Why? Many travel to Christchurch as the gateway to exploring New Zealand's South Island, and find that a holiday in Christchurch is filled with charm. The small city is distinctly English in character, and has so many parks and gardens that it is easy to pretend you are in the countryside. Besides the green space, there are beaches; a lively city centre packed with pubs and restaurants, healthy sports scene and several museums. All the ingredients for a great getaway.
When? Deciding when to travel to Christchurch is largely a question of which seasonal events and activities one is interested in. During summer (December to late February) a holiday in Christchurch offers a packed festive programme centred on Hagley Park, with music concerts, a Garden Festival and even an international Buskers Festival. In winter (which is snow-free in the city and fairly mild) sports' enthusiasts travel to Christchurch to access the popular Mount Hutt ski area.
Who for? A Christchurch holiday is ideal for outdoor enthusiasts, the city offering a host of activities like walking trails, cycling and horseback riding and watersports, including swimming with dolphins.
More Info: To plan a holiday in Christchurch, and whet your appetite for all that this green city offers; check our Christchurch travel guide, which is packed with useful information.
---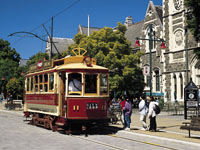 Tram, Christchurch © New Zealand Tourist Board
The largest city on South Island, Christchurch is the most English of New Zealand's cities, named after an Oxford college. The atmosphere is reminiscent of an English university town, with school boys in striped blazers and punting on the River Avon, a grand Anglican cathedral dominating the central square, little stone-walled bridges, elegant Victorian architecture and numerous parks and exquisite gardens.
Dubbed the 'Garden City', it is the lively capital of the Canterbury region, priding itself on its green areas, arts and history as well as its sports. The surrounds offer beach suburbs, protected bays and dolphin swimming, green valleys and snow-capped mountain ranges for skiing, hiking, mountain biking and climbing. The city itself has a relaxed and cosmopolitan centre with historic trams rattling along the streets of the bustling downtown area, a lively pub and restaurant scene, theatres, street buskers, museums and art galleries.
Christchurch was heavily damaged by a major earthquake in early 2011, and some of the damage is still evident, with several major tourist attractions closed for repairs, though most of the city is functioning normally. Christchurch is the gateway to the South Island and offers the visitor an appealing mixture of historic charm and vibrant city life, a pleasing balance between urban pursuits and outdoor activities. With the least rainfall of any of the other cities and plenty of sunshine it is a perfect base for a Canterbury experience.
Become our Christchurch Travel Expert
We are looking for contributors for our Christchurch travel guide. If you are a local, a regular traveller to Christchurch or a travel professional with time to contribute and answer occasional forum questions, please contact us.
iExplore designs made-to-order, privately-guided adventure tours to New Zealand and over 200 other world wonders. Come Back Different!
ADVERTISEMENT
---
Intrepid Travel is one of the world's leading suppliers of small group adventures focused on getting off the beaten track and having real life experiences in New Zealand.
ADVERTISEMENT
---