Managua Travel Guide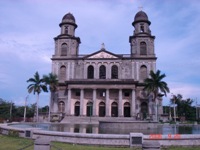 An old church in Managua © Pablott
Nicaragua's capital, Managua, is the perfect introduction to this Central American country and an ideal starting point for destinations across the country as it is situated on the banks of Lake Managua and midway between Leon and Granada. The city's name is derived from the indigenous Nahuatl language and means 'town surrounded by water'. In recent times Managua has been dubbed 'the Venice of Central America' because of all the makeshift canals used throughout the city.
Managua is divided into what can be termed pre- and post-earthquake areas. Two relatively recent and major earthquakes devastated the town in 1931 and 1972. These earthquakes forced residents to build businesses and residential areas outside of Managua rather than in the centre of town, which still contains older buildings that were not structurally designed to withstand the earthquakes. The rebuilt Managua does not seem to follow a particular system and shopping malls, residential areas and parks are scattered throughout the city. Zona Rosa and Metrocentro are the main tourist areas.
Managua is the cultural and political centre of Nicaragua. It is also central to trade and industry, which is evident in the seemingly frenetic activity and constant buzz that the city exudes. Visitors to Managua will be charmed as it is a meeting point between old and new. It is also a beautiful city, surrounded by volcanoes, lakes, mountains and lagoons.
Getting around in Managua can be tricky because of extensive earthquake damage. Years of major earthquakes and earth tremors have left many parts of central Managua without proper addresses or street names. Using the lake as a point of reference is particularly useful whether you're using a hired car, taxis or public buses.
Managua boasts a number of tourist attractions including the National Museum, National Palace and the old and damaged Managua Cathedral. The town has a selection of quaint markets where tourists can buy everything from ethnic mementos and souvenirs to colourful hammocks and paintings. Visitors to Nicaragua will be charmed by its capital city and enthralled by the country's natural beauty and extensive scenic surroundings.
Become our Managua Travel Expert
We are looking for contributors for our Managua travel guide. If you are a local, a regular traveller to Managua or a travel professional with time to contribute and answer occasional forum questions, please contact us.