Lagos Travel Guide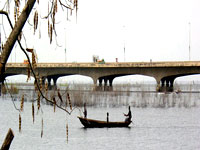 Third Mainland Bridge, Lagos ©
It is hard to believe that Lagos, Nigeria's biggest, busiest city (with a population of roughly eight million and counting) had its origins as a small Yoruba settlement. Spread over the mainland near the Gulf of Guinea and several large islands on the vast lagoon that gives it its name, Lagos is Nigeria's principal port and its commercial and cultural centre.
The former capital grew to prominence when it was 'discovered' by the Portuguese in the late 1400s and became a central trading post for the area, also serving as a major hub of the international slave trade. When the British annexed the city in 1861, they effectively put a stop to the slave trade, but took control of the trade and industry of the area. Once Nigeria gained independence in 1960, Lagos experienced a boom which swelled the city's population considerably and today, Lagos is one of the world's fastest-growing cities, with a full and complex tapestry of religious and ethnic groups. The sprawling city is chaotic, crowded and lacks any major tourism infrastructure, though the government is investing millions in upgrades to security and public transport.
Most visitors travel to Lagos for business and there are few sights in the tourist sense, however those willing to put in some effort will have a unique and memorable experience. Streets are congested, drivers are maniacal and blackouts are common. However, the convoluted history of the city, and Nigeria as a whole, contributes to its exotic flavour. Lagos has an interesting National Museum, National Theatre, several markets and some decent beaches to explore.
Our Travel Expert
Fola is a London based teacher, with a great love for Nigeria. Her interest in Lagos began while writing her dissertation at university based on the formation of British Nigerian identities. She travelled to Nigeria for the first time at the age of 21 and spent much of her time exploring her mother's home town in Ondo State. Since then Fola has travelled to Nigeria many times and worked and volunteered in the country.
>Read Folasade's tips on Lagos
>Ask Folasade a question
---
Become our Lagos Travel Expert
We are looking for contributors for our Lagos travel guide. If you are a local, a regular traveller to Lagos or a travel professional with time to contribute and answer occasional forum questions, please contact us.
---