Raleigh Travel Guide
Why? Raleigh is a perfect destination for those seeking to experience a bit of Southern history and culture without giving up the attractions of a big city. Raleigh's restaurants serve up plenty of sweet tea and mouth-watering barbecue, but it is also known as the 'Smithsonian of the South' for its renowned museums and excellent performing arts scene.
When? Spring and autumn offer warm, pleasant weather without summer's somewhat uncomfortable humidity.
Who for? Raleigh is diverse enough to offer something for everyone. Many businesspeople visit in connection with its universities and the Research Triangle. But it is also an excellent place to hit the links. North Carolina is known for its outstanding golf, and Raleigh is no exception. At times, it seems difficult to travel more than a few minutes without stumbling upon another stunning golf course. Wil-Mar has been recognized as a top course for women, and Eagle Ridge and River Ridge are among Raleigh's best public courses.
More info: Our Raleigh travel guide is updated regularly to provide current information on all aspects of a holiday in Raleigh, from the top attractions and excursions to how to use the bus service.
---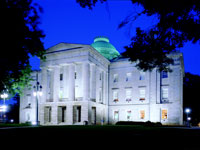 N.C. Capitol © Photo courtesy Greater Raleigh CVB/VisitRaleigh.com
North Carolina's capital, Raleigh, makes up the southeastern corner of the famous Research Triangle, with Durham and Chapel Hill at the other two points. The state's second-largest city is a vital centre of high-tech business and education. Unlike many cities that grew up around ports or stations, Raleigh was planned specifically to be the capital.
At its centre stands the beautiful North Carolina Capitol building, a fine Greek Revival-style landmark, from which wide, oak-lined streets radiate. This careful geometry makes exploring Raleigh quite straightforward, although the city lacks the charming scenes that often develop with more haphazard growth, such as shops on crooked alleyways and old homes on narrow, hidden lanes. Nonetheless, Raleigh remains a pleasant city, with a unique mix of Southern heritage and down-home manners; elite academia and boisterous university life and athletics; and the fast-paced, sleek sophistication of Triangle professionals.
Raleigh has been described as somewhat sleepy in the past, but its nightlife scene has become much livelier in recent years, and its diverse historic districts and neighbourhoods cater to many different tastes. The area surrounding the Capitol is the centre of government, business and history. Despite its daytime bustle, it remains a lovely spot for a stroll, with grand museums and a leafy square. Nearby Oakwood is full of exquisitely restored 19th century homes and gardens. Moore Square, with its old-fashioned lampposts and cobbled streets, is another city oasis. By day, visitors can lounge in the park and must rub for good luck the giant copper acorn sculpture, in honour of Raleigh's 'City of Oaks' nickname. By night, Moore Square comes alive with upscale bars and restaurants, as do pedestrian Fayettesville Street and the chic Warehouse district, popular with Raleigh's 'urban hip' crowd.
Shoppers should head for the posh shops of North Hills or the boutiques of Cameron Village. Those in search of a more colourful atmosphere, however, will find it on Hillsborough Street and in the NC State University district, where a jumble of undergrads, professors and tourists mingle in coffeehouses, restaurants and casual pubs. NC State is the North Carolina's largest university, and its strong reputation for research is often overshadowed by its wildly popular Wolfpack, a leader in intercollegiate sports.
Raleigh is often lumped together with nearby cities Durham and Chapel Hill, and though the three are only about a 30-minute drive from one another, there are different communities. Durham was once one of the most thriving African-American centres in the country. Today, its main attraction is Duke University, one of the top schools in the United States and home of the Blue Devils, another sports powerhouse. Its downtown areas, however, have suffered in the past years, although revitalization efforts are underway. Chapel Hill, meanwhile, has the reputation of a lovely college town, with beautiful old homes; endless independently-owned coffee shops, pubs and restaurants; and a decidedly liberal leaning. It is home to the University of North Carolina at Chapel Hill, another top American institution, and the beloved Tar Heels, another top force in college athletics. The three cities, and their massive college sports followings, remain friendly rivals.
Become our Raleigh Travel Expert
We are looking for contributors for our Raleigh travel guide. If you are a local, a regular traveller to Raleigh or a travel professional with time to contribute and answer occasional forum questions, please contact us.