Yellowknife Travel Guide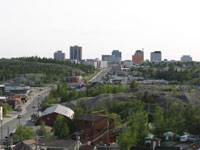 Yellowknife © Trevor MacInnis
Yellowknife is built on permafrost, but there is nothing cold about the welcome awaiting visitors who come to enjoy log buildings, luxury hotels, caribou steaks, caviar, and dog sled teams.
This small but thriving city is the gateway used by those planning to explore other points in the Northwest Territories and the adjacent territory of Nunavut, and is the kicking-off point for a variety of extreme adventure tours and unique vacations in the heart of the northern wilderness. The city is on the north shore of Great Slave Lake and offers its own attractions, like boating, fishing, hiking, birdwatching, canoeing and walking tours. A popular attraction is the quaint Old Town section with its watery views, historic buildings and the Wildcat Café where local and visiting musicians entertain with jam sessions. In winter (September to April) the sky remains dark most of the day and the spectacular Northern Lights can be seen. A good vantage point is from the top of the Bush Pilot's Monument in Old Town, six storeys high with a 360 degree view.
Located within what is known as the 'Aurora Oval', Yellowknife is one of the three best places in the world to view the spectacular natural phenomenon known as the Northern Lights, or Aurora Borealis (Fairbanks, Alaska and Lapland in Norway are the other two). Aurora Village, located just 30 minutes from downtown Yellowknife, is fast becoming a major tourist attraction - offering visitors from all over the world a rare opportunity to see the luminous light-show in a geographically perfect setting. Consisting largely of tepees (heated for your comfort), Aurora Village is a traditional-feeling, suitably ambient place to spend a cold winter's evening, spellbound by the incredible, colourful patterns that grace the night sky overhead.
Become our Yellowknife Travel Expert
We are looking for contributors for our Yellowknife travel guide. If you are a local, a regular traveller to Yellowknife or a travel professional with time to contribute and answer occasional forum questions, please contact us.