Oslo Travel Guide
Why? Oslo is the gateway to Norway's most scenic areas, with forests, lakes and hiking trails just a subway ride away, but a holiday in Oslo is a joy in its own right. This cosmopolitan city offers cultural attractions, nightclubs, cafes, and chic boutiques enough to tempt any urban soul to travel to Oslo and sample its delights.
When? The peak season for a holiday in Oslo is between June and August when the sun shines during the long days of the midnight sun. Winter offers a different kind of Oslo holiday, when the city is coated with snow and days are dark, brightened by the glow of lights emanating from inviting warm hostelries.
Who for? A summer holiday in Oslo is for those who like donning their walking shoes and getting out into the beautiful countryside surrounding the city. Museum fans will revel in an Oslo holiday too, with plenty of institutions offering extended opening hours during the summer months.
More info: Before setting off on a holiday in Oslo it is wise to plan ahead using our Oslo travel guide, which is packed with information about what to see and where to go, including how to use public transport. The guide, which is updated regularly, can be printed out to take with you on your trip, or emailed.
---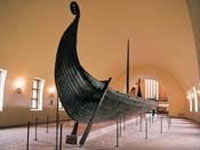 Viking Ship Museum © Norwegian Tourist Board
Legends of heroes, trolls and princesses roaming the countryside outside this charming city attract many travellers looking for a Scandinavian holiday. Oslo, situated at the end of a 70-mile (110km) long fjord, is Norway's capital and its largest city, rich in culture and folklore with a fascinating Viking history.
Oslo is an eclectic mix of old medieval buildings, churches and modern architecture, sitting among the green trees and extending forests that form the natural balance of nature and civilization. Around the city there are numerous museums, art galleries and places of interest, especially the Edvard Munch Museum and the Norwegian Folk Museum on the sought after Bygdøy Peninsula. Other attractions include Vigeland Park with its interesting collection of sculptures, and the medieval Akershus Fortress dominating the seafront.
Although Oslo has small population compared to other European capital cities, it retains a true vibrancy about it. The city centre is filled with restaurants, bars, cafes, clubs and theatres and has a very cosmopolitan feel to it with street artists hanging around the main street, Karl Johans Gate. Oslo is renowned as a city of culture and the City Hall hosts the annual awarding of the Nobel Peace Prize.
Become our Oslo Travel Expert
We are looking for contributors for our Oslo travel guide. If you are a local, a regular traveller to Oslo or a travel professional with time to contribute and answer occasional forum questions, please contact us.