Stavanger Travel Guide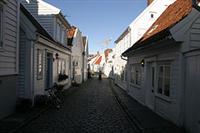 Situated on the south-west coast, Stavanger is Norway's fourth-largest city, and its petroleum capital. A modern city, with excellent public transport, it also boasts the area known as 'Gamle (ancient) Stavanger', a cobble-stoned suburb full of 18th century wooden houses, where many local artists have taken up residence. Other attractions include the Oil Museum, the Canning Museum, and the Rogaland Art Museum; while Stavanger's rich, varied nightlife is considered some of the best that Norway has to offer. In the summer, visitors can take advantage of Stavanger's many climbing and hiking opportunities, or hang out on Solastranden (a long, sandy beach close to the airport); and in winter, can ice skate on the city's largest lake, Stokkavannet. Several low-cost airlines, such as BMI and SAS, regularly serve Stavanger's Sola Aiport - making it a popular entry-point for travellers to Norway.
Become our Stavanger Travel Expert
We are looking for contributors for our Stavanger travel guide. If you are a local, a regular traveller to Stavanger or a travel professional with time to contribute and answer occasional forum questions, please contact us.