Tromso Travel Guide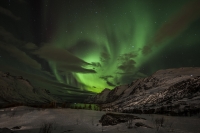 Northern Lights over Tromso © Mark Robinson
Set in a magnificent landscape of dramatic snow-capped mountains with a rocky shoreline, Tromso is a lively town characterised by unusual old wooden houses, street music, cultural events and the most pubs per capita in Norway. It is the capital of the north and a bustling metropolis in comparison to the surrounding fishing communities along the northern coast of Norway; it is also a vibrant university town.
Known as the 'Gateway to the Arctic' and situated within the Arctic Circle, Tromso is an excellent base from which to explore the surrounding area and has some of the most extensive Northern Light activity on earth, making it a sought-after tourist destination from which to experience the spectacular show of the Aurora Borealis. The Midnight Sun during summer is another strange phenomenon, when continuous daylight makes people forget to go to bed; whereas the winters see only a few hours of bleak twilight during midday. It is these extreme light conditions that hold the greatest fascination for tourists, regardless of the season, and make Tromso such an intriguing place to visit.
The north of Norway is also the place to get to grips with the fascinating indigenous Sami culture, which can be investigated in Tromso. There are several museums and other places of interest, a cable car to the top of one of the surrounding hills providing fantastic views, and boat trips into the glorious landscape of the arctic fjords.
Become our Tromso Travel Expert
We are looking for contributors for our Tromso travel guide. If you are a local, a regular traveller to Tromso or a travel professional with time to contribute and answer occasional forum questions, please contact us.