Halifax Travel Guide
Why? All things nautical make for a memorable holiday in Halifax, Canada's busy Atlantic port city. In recent years Halifax has made the most of its waterfront, turning it into a tourist playground of pubs, shops, museums, craft markets and outdoor concerts. There is plenty of history to be discovered, too, if you travel to Halifax, including Pier 21, where immigrants were once processed for entry to Canada, and the graves of about 150 victims of the Titanic disaster.
When? Choosing when to vacation in Halifax is a matter of deciding what type of holiday you are after. Weatherwise the best time is during summer, and this is best too for those aiming to enjoy the city's main festivals and events; also many attractions are only open in the summer season (June to October). Seafood lovers should aim to travel to Halifax in May and June when lobster pots are full, and those after whale-watching need to visit between June and September. Many recommend autumn as the best season to travel to Halifax when the colourful foliage is spectacular. The cold of winter draws skiers to the city from December to April.
Who for? Everyone will enjoy a holiday in Halifax, particularly those who are intersted in maritime history.
More Info: If you are planning to travel to Halifax make use of our Halifax travel guide which is updated frequently and can be printed out, or emailed to friends and family. The guide is packed with useful and vital information for a Halifax holiday.
---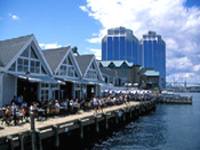 Halifax waterfront © www.novascotia.com
Halifax is the provincial capital of Nova Scotia and also serves as the centre of commerce for the whole of Atlantic Canada. It is sited opposite its twin city of Dartmouth, across the Bedford Basin, on the second-largest natural harbour in the world (the largest is Sydney, Australia), and has long been an important maritime centre. Halifax Harbour extends for 10 miles (16km) and is home to North America's oldest yacht club, Northwest Arm. Two toll bridges span the harbour and a passenger ferry connects Halifax and Dartmouth.
Halifax was founded in 1749 by the British in an effort to strengthen their presence in the North Atlantic, and the city retains its British military air. Many historic stone and wood buildings have been preserved, particularly in its restored waterfront area that has become a major tourist attraction, offering shopping, nightlife, entertainment and restaurants.
Halifax is the cultural hub of Nova Scotia and for the Atlantic provinces as a whole. It has a number of art galleries, museums, theatres, and other entertainment facilities, and is home to the Nova Scotia Symphony, and many cultural festivals like the Nova Scotia International Tattoo, Shakespeare By the Sea, The Halifax International Busker Festival, Greekfest, and the Atlantic Film Festival. Visitors can find out more about the city's culture from its free alternative arts weekly magazine, The Coast. The city also offers a range of activity sites like beaches, parks, and walking trails, and some 'living history' experiences like the firing of the noon day gun at the Halifax Citadel and the working locks of the Shubenacadie Canal.
Become our Halifax Travel Expert
We are looking for contributors for our Halifax travel guide. If you are a local, a regular traveller to Halifax or a travel professional with time to contribute and answer occasional forum questions, please contact us.