United States of America

---

---

---

---
Cleveland Travel Guide
Why? Once viewed as an unattractive industrial metropolis, Cleveland has re-invented itself during the past few decades and now ranks as a world class city. A holiday in Cleveland now offers a wide variety of recreational options and cultural attractions. Travel to Cleveland for excellent museums, superb cultural events, exciting sport, thrilling amusement parks, marvellous malls, lively nightlife, tasty restaurants and the great outdoors in the form of parks and Lake Erie.
When? The best time of year to holiday in Cleveland is during summer, when temperatures are warm and all the city's attractions and events are in full swing. Autumn is also a popular season to travel to Cleveland when the air is crisp and cool and the autumn foliage makes the city's parks particularly colourful. Winters are very cold and snowy, and spring tends to be wet.
Who for? A holiday in Cleveland is for anyone and everyone, no matter what age or interest. The city has become a favoured conference destination, as well as being one of the country's most popular tourist cities.
---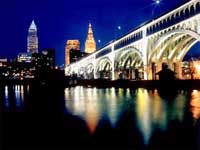 Cleveland night skyline © Convention & Visitors Bureau of Greater Cleveland - Louie Anderson
Founded in 1796, Cleveland became an industrial town with the opening of the Erie-Ohio Canal that linked the Ohio River to Lake Erie, and the city's vast iron and coal supplies made it one of the most important steel and shipbuilding centres in the country, a sprawling mass of oil refineries, mills and warehouses along the shores of Lake Erie.
Industrial success poured money into the city and wealthy tycoons built the downtown area that today has outgrown its 'steel town' image and is a bustling place, a city of green parklands and lively neighbourhoods with a vibrant atmosphere. Once the heavily-polluted victim of much mockery, its industrial character has moved beyond the city limits and the downtown warehouses and factories now house trendy clubs and restaurants, while museums, and sporting and cultural events attract many visitors to the city.
Located on the southern shore of Lake Erie at the mouth of the Cuyahoga River, Cleveland has a growing cultural presence that has been enhanced by newly added attractions such as the Rock and Roll Hall of Fame and Museum, the enormous Great Lakes Science Center and six-storey OMNIMAX Theatre, and the professional sports arenas and stadiums of the Gateway District that host major sporting events as well as live entertainment.
These are welcome additions to a city already boasting a world-class orchestra, a celebrated art museum, lively theatre district and the restored lakefront area. Neighbourhoods buzz with restaurants and shops, and the Flats, once the industrial heart of the city occupying both banks of the Cuyahoga River, is now the booming entertainment and nightlife district of Cleveland. The historic Warehouse District is downtown's oldest commercial quarter and is a national Historic Landmark with over 70 fine examples of Victorian architecture. Once housing merchants' and manufacturers' goods, the old warehouses are now home to music clubs, galleries and trendy dining spots.
Some miles out of the city centre are two theme parks with some of the world's tallest and fastest roller coaster rides at the Cedar Point Amusement Park in Sandusky, and the Six Flags Worlds of Adventure in Aurora.
Become our Cleveland Travel Expert
We are looking for contributors for our Cleveland travel guide. If you are a local, a regular traveller to Cleveland or a travel professional with time to contribute and answer occasional forum questions, please contact us.