United States of America

---

---

---

---
Oklahoma City Travel Guide
Oklahoma City travel Forum
---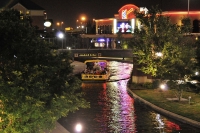 Bricktown Canal, Oklahoma © Serge Melki
Oklahoma City, the state capital, has an incredibly rich history, and one that visitors will encounter in many, if not all, of the sites throughout the state.
Today Oklahoma City stretches across more than 600 square miles (965 square km) and is one of the country's major perpetrators of urban sprawl. In recent years, however, the city has been working to reinvent itself, focusing on downtown revitalization with great success. Most attractions of interest to tourists are located in the inner city districts, beginning with Bricktown, which is bounded by one of the country's premier minor-league ballparks, home of the RedHawks. Once a clump of old warehouses, Bricktown is now a vibrant collection of trendy condos, shops, restaurants, bars and clubs situated along a picturesque canal. Here visitors can satisfy their every craving for hardy American fare like steak and barbecue ribs.
The Paseo Arts District, built in the 1920s, also boasts a few upmarket cafés and cocktail lounges, though its galleries and studios are the main draw. Other attractions include Stockyards City, right downtown, the largest stocker/feeder cattle market in the world, where visitors can watch live auctions, shop for authentic Western attire and sample stick-to-your-ribs food. Oklahoma City also has plenty of fun attractions for children and families too. Its parks system is one of the most extensive in the country, and its three nearby lakes are lovely spots for camping, fishing and watersports.
Oklahoma City is known as the 'Horse Show Capital of the World', and the city's many equestrian events as well as its multiple museums make for enjoyable family outings. Oklahoma has been said to inspire nostalgia, and its capital city is no exception. Watching the weekend regattas at Lake Hefner in the summer, and ice-skating in the winter under Christmas lights at Bricktown's outdoor rink, are memories families will not soon forget.
Become our Oklahoma City Travel Expert
We are looking for contributors for our Oklahoma City travel guide. If you are a local, a regular traveller to Oklahoma City or a travel professional with time to contribute and answer occasional forum questions, please contact us.