United States of America

---

---

---

---
Tulsa Travel Guide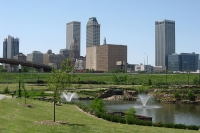 The skyline of downtown Tulsa, Oklahoma © Caleb Long
While Oklahoma City is known for its award-winning events and amazing attractions, Tulsa, the second largest city in Oklahoma, is often considered a cultural oasis, with an air of sophistication and a flair for the arts. In the early 1900s, when oil was discovered, Tulsa was transformed from a frontier town to a wealthy and thriving city. Elegant mansions and spectacular business headquarters were built, leaving a collection of Art Deco structures rivalled only by New York and Miami.
Tulsa is also one of the smallest cities in the country to support full-time ballet and opera companies, the critically acclaimed Tulsa Ballet and the Tulsa Opera, ranked among the top ten regional opera companies in America. The Tulsa Performing Arts Center is home to 13 resident performing arts organisations in addition to a touring Broadway series. The city's rich cultural life extends to the visual arts as well. The Philbrook Museum of Art is one of only five in the country to offer a historic mansion and gardens, once the Italianate villa and estate of an oil baron, and the Gilcrease Museum houses the largest collection of Western American art in the world.
It is easy to imagine that Tulsa's creative atmosphere is inspired by the natural beauty surrounding the city. Tulsa is nestled in northeastern Oklahoma among rolling hills and forests, with the Arkansas River running through its centre. Its 800-acre river parks system features picnic areas, playgrounds and sports fields as well as extensive trails for walkers, runners and cyclers. The city is also something of a golf haven, with 19 public courses as well as multiple award-winning private courses.
Become our Tulsa Travel Expert
We are looking for contributors for our Tulsa travel guide. If you are a local, a regular traveller to Tulsa or a travel professional with time to contribute and answer occasional forum questions, please contact us.