Muscat Travel Guide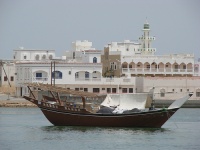 Boat in Muscat Harbour © watchsmart
Muscat is the largest city in Oman, but the bustle of the modern capital city is easily forgotten with rug merchants, cannon-protected forts and an ornate sultan's palace overlooking the historic city harbour. The once important maritime city underwent a resurgence in the 1970s, when the Sultan Qaboos bin Said began to develop museums, mosques, palaces, and to restore relics of Muscat's history.

Although Muscat is a popular destination for sightseeing tourists, many of the attractions are primarily regular fixtures of Omani life. The mosques are important religious sites, the ancient forts are still operated by the military and the palace is the seat of Oman's government. While this gives visitors an authentic experience, tourists can find playing second fiddle a little inconvenient.

The beauty of the city, especially near the harbour, is what makes Muscat so alluring. The smooth curved stone architecture is a transition from the rocky landscape to the inviting water of the harbour. Many new buildings have continued with classic Arabic architecture, further protecting the city's legacy from the ravages of the modern world. Muscat is one of the safest, most cosmpolitan and open-minded city in the entire Gulf Region, and is fast becoming a Middle East tourism hotspot.
Become our Muscat Travel Expert
We are looking for contributors for our Muscat travel guide. If you are a local, a regular traveller to Muscat or a travel professional with time to contribute and answer occasional forum questions, please contact us.