Ottawa Travel Guide
Why? Ottawa is a green city, packed with parks and open spaces, and as the capital of Canada sports numerous national attractions and top museums, so a holiday in Ottawa is a busy whirl of sightseeing. The city also has a hectic events calendar, so it is wise to check what's on when planning a holiday in Ottawa to make sure you don't miss out on a fun festival whatever time of year it is, from ice-carving in winter to tulips in the spring.
When? Summer in Ottawa can be hot and humid, but it is the best time to travel to Ottawa, especially if you want to indulge in the many outdoor recreational opportunities on offer.
Who for? Anyone and everyone will enjoy a holiday in Ottawa, but it is particularly well suited to more active vacationers, who can cycle or roller-blade along the miles of trails set out in the city.
More Info: To find out all you need to know to make the most of an Ottawa holiday use our comprehensive, up-to-date Ottawa travel guide, which contains a plethora of information from how to locate the major attractions, use public transport, and what facilities to expect at the airport.
---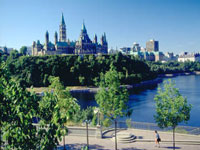 Ottawa © Pierre St. Jacques/Ottawa Tourism
The capital of Canada is located on the south bank of the Ottawa River, opposite the French-speaking city of Gatineau across the water in the neighbouring province of Quebec. It's location on the border puts it in the unique position of being truly multicultural and bilingual, with a harmonious blend of French and English culture.
Ottawa had humble beginnings as a small lumber town until Queen Victoria designated it the capital of Canada in 1857. Since then it has grown into a modern, cosmopolitan city, though it is often overlooked in comparison to its larger, more glamourous neighbours, Toronto and Montreal. Its main landmark is the 302ft (92m) high Peace Tower. The tower surmounts the imposing Parliament Buildings, which stand in Gothic splendour at the junction of the Ottawa, Rideau and Gatineau rivers.
The city has a network of waterways and canals that link it to Lake Ontario and Georgian Bay. The historic Rideau Canal is used for boating in summer, and for ice sculpting and skating in winter, by locals and visitors alike. The parliament buildings and other architectural sites have an old-world European charm, and Ottawa has numerous top class museums and galleries, and the National Arts Center, which houses an opera company, theatres, studios and restaurants.
Become our Ottawa Travel Expert
We are looking for contributors for our Ottawa travel guide. If you are a local, a regular traveller to Ottawa or a travel professional with time to contribute and answer occasional forum questions, please contact us.